If you are anything like me then you will research everything you can about a purchase before you make it, all the way down to where they make it and who the parent companies are. Well making the decision to buy a UTV should be no different. In fact, you should put priority on where, when, how they are built and should know the reputations of the companies involved because a UTV is not a small purchase.
UTVs are made all over the world but the largest manufacturers have plants in the United States, Mexico, Japan, and China. Several American based companies do not manufacture their own UTVs and many are outsourced to China for the entire vehicle, or for the parts.
I have put together a list of all the major brands of UTVs (as well as the top ATV brands) with a little information on their company and where they are manufactured because I know a lot of you out there want to support local as much as possible, but the bottom line is, there are a lot of quality UTVs manufactured all over the world. If you are in the market for a UTV, make sure you get the proper gear and make sure you find out everything you can about your upcoming purchase. Feel free to look around because I have almost all the info you need on a ton of models of UTVs such as their weight, dimensions, and even how much they cost.
Where Are Can-Am UTVs Made?
Everyone knows the name Can-Am and there is good reason for that. Can-Am has made quality products for several years. Can-Am ATVs and UTVs are manufactured by a Canadian company called BRP (Bombardier Recreational Products). It was founded in 1942 as L'Auto-Neige Bombardier Limitée (Bombardier Snow Car Limited) by Joseph-Armand Bombardier in Valcourt, Quebec, Canada but didn't take on the name Can-Am until 1972.
Today they boast several manufacturing facilities throughout the world in Canada, the United States, Mexico, Finland, and Austria. Can-Am ATVs and UTV are proudly distributed in over 100 countries by more than 4,200 dealers and distributors. 
Can-Am has top of the line vehicles at top of the line prices but are some of the most prized, best performing, and fastest manufacturer vehicles on the market today.
History Of Can-Am
Let's talk a little bit of history of Can-Am since they have a long line of manufacturing under their belts. 
As I mentioned earlier, Can-Am didn't come into being until 1972 when the parent company, BRP, created Can-Am as a motorcycle and introduces their first high performance dirtbikes to the world that were meant for enduro and motocross.
It would be another 26 years before they ventured into another section of powersports when in 1998 they released the Traxter ATV which became ATV of the year just one year later according to ATV Magazine. That same year, after receiving the award for best ATV, BRP decided to dive into the sport ATV market and designed a model specifically for the track in their BRP DS650.
They introduced several models after 1998 but one of the coolest things they did was design and ATV that was actually designed and approved as a two seater! Now most people ride people on their ATVs and don't even realize most are only meant for one rider.

In 2007 BRP rebranded their ATV line and named it Can-Am offroad and co tinued production on ATVs until 2010 rolled around and they released their staple UTV, the Can-Am Commander, that won best of the best from Field & Stream in 2011, and the rest of their UTV lineup has been very popular ever since.
Where Are CFMoto UTVs Made?
CFMOTO is based in Hangzhou, China and was founded in 1989 when their founder, Lai Guogui, developed their trademark, 4 stroke, liquid cooled engine. From then on, they developed and manufactured vehicles that included ATVs, scooters, motorcycles, and UTVs. They have developed almost 100 vehicle models and over 50 different engine models in the last 30 years with engines ranging from 125cc to 800cc.
In 2002, CFMOTO introduced their line of ATVs and soon after, UTVs. They are proud of their products and are sold worldwide. With a very low cost compared to other top names, they tout world class quality but with mixed reviews, the old adage, you get what you pay for rings true. If you want to see their cost versus other competitors, check out this article I wrote. It compares prices of top brands and over 130 models.
Where Are Hisun UTVs Made?
Hisun is a Chinese based UTV, ATV and motorcycle manufacturer that started in 1988. While the machines are manufactured in China, the assemblies are sent to the United States as just an engine, a frame, and parts and are assembled in a 300,000 square foot warehouse in McKinney, Texas and are marketed as "almost made in the USA." They have over 250 authorized dealers and are quickly becoming a popular brand due to their mid ranged price of entry and make UTVs for Bennche, Coleman, Cub Cadet, and Massimo. For all the info on any of the UTVs mentioned, go check out my extensive guide to UTV costs.
Where Are Bennche UTVs Made?
Bennche is a relatively new name in the UTV game and are based out of Coppell Texas. They were founded in 2009 and partner with top manufacturers from China who manufacture the UTVs and ATVs and send the parts to get assembled right here in America. 
According to their website and LinkedIn profiles, they are the official UTV and ATV of the Texas Rangers baseball team and also boast a 12 month engine and drivetrain warranty.
"We assemble all of our vehicles in Coppell, Texas – meaning parts are stocked and shipped directly from us to our dealers. Bennche also offers special customization options and accessories, ensuring your vehicle is equipped for your needs. Whether you're out working the ranch or getting that trophy buck, Bennche has everything you need to get the job done with maximum efficiency." –Bennche Website

Where Are Coleman UTVs Made?
Coleman is an American based company that operates out of Tempe, Arizona, with the larger company parent located in Chicago Illinois and are well known for all their camping gear from tents to lanterns but started in the ATV and UTV market. 
Hisun builds and ships ATVs and UTVs to Coleman to sell under their brand name. 

Where Are Cub Cadet UTVs Made?
Cub Cadet started making lawn mowers in 1961 and is a well known brand in that industry. In 2006 they released their first UTV called the Volunteer and now receives their UTVs built and shipped from Hisun UTVs in China under their brand.
Cub Cadet's headquarters is located in Valley City. Ohio. While their lawn and garden equipment is claimed to be proudly made in America, they can't say the same about their UTVs which are competitively priced from around $6,500 – $13,000.
Where Are Massimo UTVs Made?
The Massimo brand is also built by Hisun motors company but are assembled in America in Irving, Texas. Founded in 2009 , they have built a business off "Almost made in the USA" because all of the assembly is done here while the manufacturing is done in China.

Where Are Honda UTVs Made?
Honda started back in 1937 by Soichiro Honda as a piston ring manufacturer and had one factory that produced piston rings for Toyota vehicles. Lack of quality of the parts cause Toyota to cut ties, but after a few years, Honda made better quality parts and became the piston ring manufacturer for Toyota again in 1941.In 1949 Honda Technical Research Laboratory, as they were branded, developed their very first motorcycle called the Dream or the D-Type.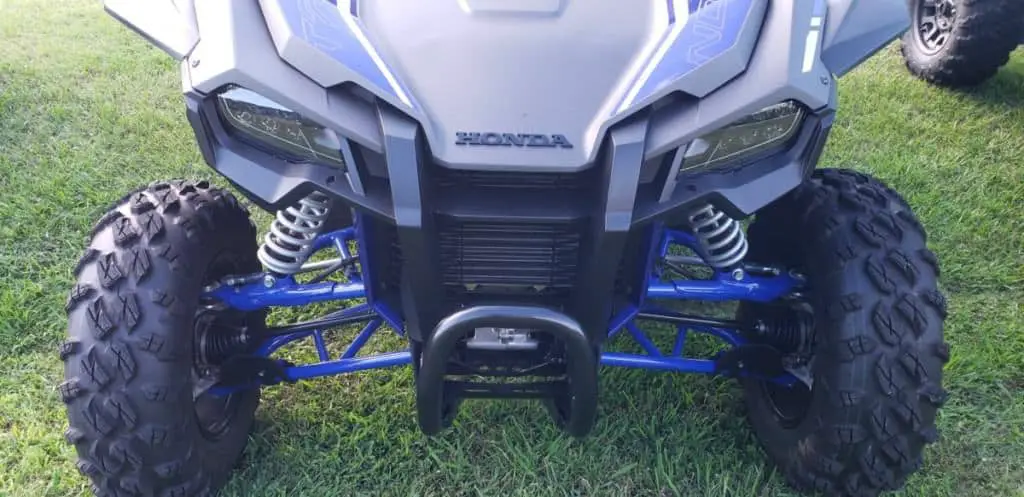 Honda soon became world renowned for their motorcycles, cars, ATVs, and UTVs and are also the largest engine manufacturer on the planet making over 14 million per year.
Honda has manufacturers all over the world from Japan, Mexico, and the United States. Most of their UTVs and ATVs are made either in the United States or in Mexico.
Where Are Intimidator UTVs Made?
Robert and Becky Foster are the founders of Intimidator and started the company in Batesville, Arkansas in 2010. Since 2010, Intimidator has branched out into several other brands that include: 
Intimidator UTVs
Spartan Mowers
Gourmet Guru Grills
Bad Dawg Accessories
Envy
Intimidator is proud to say that their UTVs are all manufactured in the United States with US Steel which means that living in the US, you are able to support a US based company. They have recently partnered with Mahindra UTVs to start manufacturing their line of vehicles under the Mahindra name.
Where Are John Deere UTVs Made?
John Deere has been manufactured at other locations but the utility vehicles are now exclusively designed and built in Horicon, Wisconsin. Their engines are still sourced from China but the brand is still as reliable as ever with sales of the Gator reaching over half a million sales. They must be doing something right in Wisconsin to sell that many UTVs.
Where Are Kawasaki UTVs Made?
Kawasaki Motors Manufacturing Corp(KMM), is located in 2 locations where they manufacture all their machines for the United States. Lincoln, Nebraska and Maryville, Missouri house the companies factories where they employ a "just in time" manufacturing policy where they make enough to meet demand to avoid extra warehouse cost.  Kawasaki was the first foreign vehicle manufacturer to open a manufacturing plant in the U.S.A.
Their flagship UTV, the Kawasaki Mule has been around since 1988 and Kawasaki has partnered with American business since 1969. They may be a foreign company but the American market is manufactured and built right here in the U.S.A.
Where Are Kioti UTVs Made?
KIOTI is the North American name for South Korea's DaeDong Industrial Co. Kitoi was established in 1983, and have been producing tractors and agricultural equipment, buthin 2015 they released their diesel-powered Mechron UTVs.
Dawdong was originally founded in Daegu, South Korea, in 1947 and their first tractor was released in 1968. In 1986 the first KIOTI compact tractor was introduced in the US and in 1993, Daedong expanded into the US market with Daedong-USA and started the Kioti Tractor brand located in Wilson, NC, just a few hours from my hometown. The UTVs, however, are made in Korea while the plants located in the US are just distribution centers.
Where Are Kymco UTVs Made?
KYMCO is the largest scooter manufacturer in Taiwan, and currently exports to 74 countries worldwide. KYMCO's headquarters and factory are located in Kaohsiung, Taiwan. The company was founded in 1963 after they decided to part ways with Honda. They released their first scooter in 1970, first ATV in 2002, and their first UTV in 2015.
Where Are Mahindra UTVs Made?
Mahindra USA is an American based company that claims to build and manufacture all their UTVs in the United States as stated on their website. Every Mahindra utility vehicle is manufactured in the U.S., built from the ground up in Batesville, Arkansas.
In 2014 they announced a partnership with INTIMIDATOR UTVs to manufacture with the President of Mahindra saying
"Our partnership with Intimidator brings together two companies with shared vision, an innovative approach to product design and a passionate commitment to quality. Mahindra is dedicated to investing in the future through new product development to provide our dealers and customers with products that continue our tradition of delivering the unmatched value they have come to expect from Mahindra" 
Where Are Odes UTVs Made?
ODES is managed out of its main corporate office in Riverside, CA but was originally based out of ODES Asia. ODES wanted to bring it's brand and make it American Made and set up in California. A landmark contract between ODES Asia and SC-Worldwide in the USA, ODES UTVs was formed and in 2011 started taking over distribution for the ODES Brand Worldwide. From their headquarters in California they oversee the marketing, branding, and engineering for UTVs and ATVs. The company motto is, "American Ingenuity, UTVs done right."
They also claim to be the home of the street legal UTV but I will let you read a little bit more about how to make a UTV street legal in a detailed article I wrote covering all 50 states.
Where Are Pitster Pro UTVs Made?
No real information is listed anywhere on the Pitster website but after scouring the web I found a forum post that Pitster replied directly to as to where and how their vehicles are manufactured.
"We design the bikes in the states, building samples and prototypes then send them to our partners in China and have them CAD drawn, the X4, x4r was designed by Pitster Pro. After the CAD drawing is finished an second sample is build, we fine tune it, test it etc.. then have them mass produced in China. Most imports DON'T do it this way and SIMPLY COPY what others have done. The difference is we spend a great deal of time improving and developing the bikes as well as checking the quality control of parts, assemble, and packaging. Anyone can Import bikes from China, and most bikes you see on eBay are of a China design. ( not American )
Assembled in China by USA design. Some parts are sourced from Taiwan, Italy and Canada depending on the model. We back up every bike we sale 110%
Please call and we can answer any questions you may have.
866-686-7869"

Source: https://www.planetminis.com/threads/where-were-pitster-pros-designed-and-produced.75062
Where Are Polaris UTVs Made?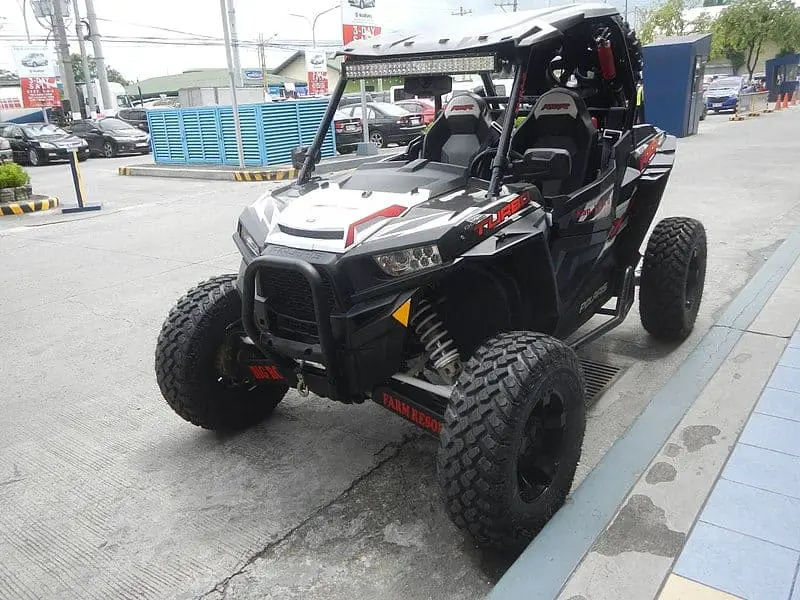 Where is Polaris Headquartered?
Polaris was founded in 1954 in Roseau, Minnesota, USA, where it still houses it's engineering and manufacturing processes. The company's corporate headquarters is in Medina, Minnesota. 
In 2010, Polaris moved some of its utility and sport off road vehicle assembly to Mexico. Components are still manufactured in Osceola, Wisconsin and the vehicle assembly is done in Roseau, Minnesota. There is still a large portion of the powertrain and vehicle manufacturing for the off-road line done in Osceola and Roseau.
Where Was Polaris Founded?
Polaris was founded in 1954 in Roseau, Minnesota by Allan & Edgar Hetteen & David Johnson and produced farm equipment. In 1956 they produced their very first snowmobile which started Polaris on the track to where they are today. Today it is one of the largest manufacturers of snowmobiles in the world. Polaris began making ATVs in 1984 in an attempt to compete with Honda, who was dominating the new and emerging ATV market.
In 1999, Polaris launched their first UTV, a 6 wheeled Ranger designed specifically to be designated as an off road vehicle. This was the start of the UTV enterprise, along with the other ventures Polaris had, into the UTV behemoth they are today.
Where Are SSR UTVs Made?
SSR Motorsports was established in 2002 to import and distribute powersports products. They started with pit bikes, and as the business grew, ATV's and UTV's were added to the off road selection. SSR began distributing scooter in 2006 in an effort to branch out their business to meet the demands of the market. They then expanded their business into the UTV market in 2013.
In 2002 William and Dennis Li founded SSR Motorsports. Dennis led the production plant in China, while William was head of U.S. distribution and manufacturing is still done in China. 
Where Are Textron UTVs Made?
Textron Specialized Vehicles joined Arctic Cat for manufacturing of their UTVs under the Textron name and produce their vehicles in the Arctic Cat facilities in Thief River Falls Minnesota.
Where Are Arctic Cat UTVs Made?
Arctic Cat was founded in 1960 in Thief River Falls Minnesota by one of the original founders of the Polaris brand where they originally developed snowmobiles. Arctic Cat UTVs started in 2005 with the Prowler and are manufactured in Thief River Falls Minnesota where the company was founded. Arctic Cat Joined Textron Inc in 2017.
Where Are Yamaha UTVs Made?
Yamaha has had a long history in the powersports world and brought their overseas manufacturing to the United States in Newnan Georgia in 2011 they manufacture their lineups and have separate plants dedicated to different models of UTV and touts "Assembled In America."
Yamaha is a major contributor to the U.S. economy directly employing approximately 2,800 American workers and supports more than 30,000 jobs through its manufacturing facilities, corporate offices, staff, distribution centers, suppliers, and dealers.  Yamaha has corporate offices, regional offices, factories and distribution centers in nine states including Georgia, California, Wisconsin, Texas, Pennsylvania, Tennessee, Illinois, New Jersey and Washington.