The world of all-terrain vehicles (ATVs) is vast and ever-evolving, with a plethora of options to suit every rider's needs. With so many top ATV brands and emerging companies in the market, how do you know which one is the best fit for you? In this comprehensive guide, we'll explore the best ATV brands of 2023, comparing their performance, reliability, and value. Get ready to embark on a thrilling journey to find your perfect four-wheeler from the best ATV brands!
Short Summary:
Explore the top ATV brands & manufacturers.

Compare performance, reliability, and cost/value among the top brands.

How to pick the best ATV brand for YOUR specific needs.
Exploring the Top ATV Brands & Manufacturers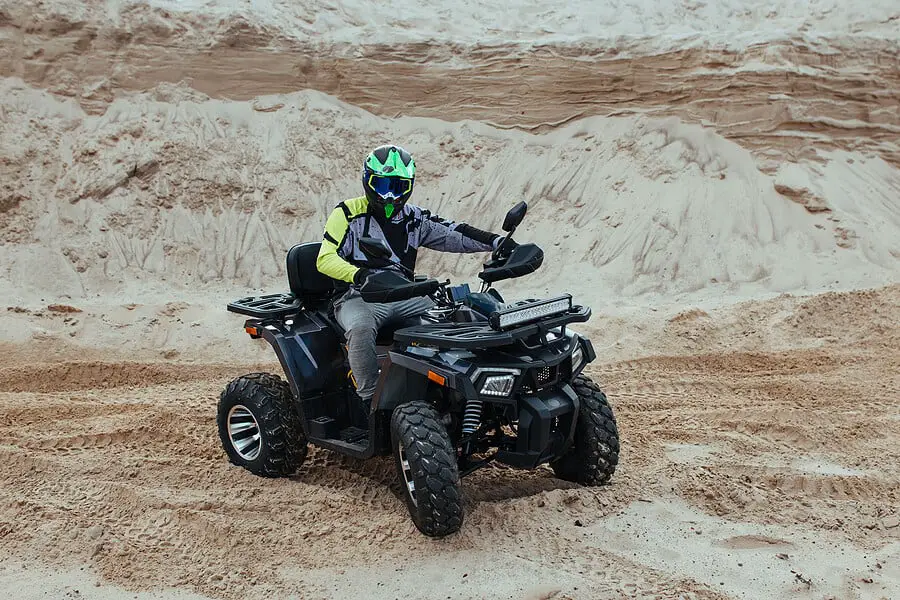 When it comes to the top ATV brands today, its Polaris, Can-Am, Honda, Yamaha, and Kawasaki that dominate the market. Each offers a range of models and features that cater to different riding preferences and needs. Be it for off-road adventures or farm work, these brands have got you covered.
As you explore the world of four wheelers, it's crucial to understand the unique offerings of each brand. Let's take a closer look at the top five ATV manufacturers and what sets them apart.
Polaris ATVs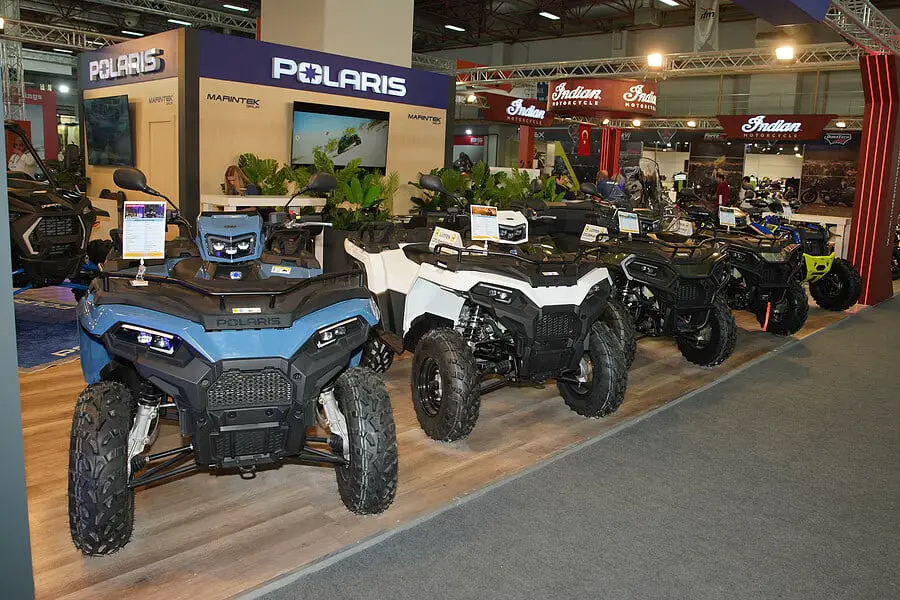 Polaris is an American-made ATV brand known for its reliable engines and long-lasting vehicles. They offer an array of models, such as the Outlaw 70, Sportsman 850, and Phoenix 200, catering to different riders' needs and preferences.
The Polaris Sportsman 850, for example, boasts an impressive towing capacity of 1,500 pounds and a payload of 575 pounds, making it a powerful option for utility use.
Safety is also a priority for Polaris. This is evidenced by the Outlaw 70 which is equipped with safety features such as a guardian-set speed limiter, color-matched helmet, safety tether, safety flag and an instructional DVD.
With their versatile lineup, reliable engines and focus on safety, it's no surprise that Polaris is a top choice among ATV riders and is generally regarded as one of the best brands of four wheelers on the market.
Can-Am ATVs
Can-Am, a Canadian ATV brand, is renowned for its powerful and reliable side-by-sides and quads. Their Outlander 570 model, for instance, is packed with impressive specs, including a 570-cc V-twin liquid-cooled engine, a selectable two-wheel-drive/four-wheel-drive system with a locking front differential, and a maximum towing capacity of 1,300 pounds.
The Can-Am Outlander 450, a beginner-friendly option, is also worth considering due to its dependable 427-cc single-cylinder engine. With a starting price of $6,299 the Outlander 450 demonstrates that Can-Am offers a perfect balance of power, reliability, and value.
Honda ATVs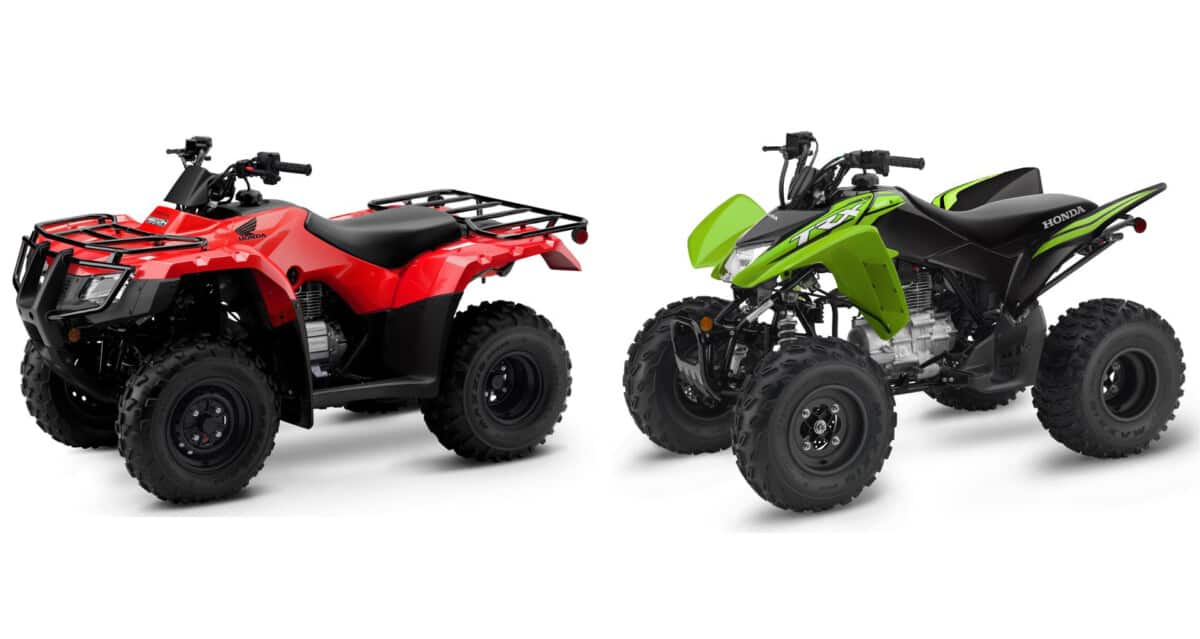 As the pioneers of three-wheeled ATVs in the 1970s, Honda is no stranger to innovation and excellence in the ATV market. Known for their safety and comfort features, Honda ATVs are popular choices among riders who prioritize reliability and ease of use. In the same way that Honda's automobiles have a well-earned reputation for reliability, they are also seen as one of the most reliable ATV brands on the market.
Honda's quad lineup includes models such as the Pioneer, TRX250X, and TRX450R, catering to various riding needs.
Honda's reputation for resilience is well-earned, as their ATVs come equipped with a robust transmission, metal gears, and user-friendly features that make them the go-to choice for many ATV riders. With a price range that starts at $3,199 and goes up to $12,894, Honda offers a great mix of quality and affordability in its lineup that appeals to ATV enthusiasts of all levels.
Yamaha ATVs
Yamaha, a Japanese manufacturer, has been a prominent player in the ATV industry since the debut of their three-wheeler Tri-Moto in 1980. Known for their lightweight chassis and high-tech parts, Yamaha ATVs offer superb performance and agility. The Grizzly EPS, Yamaha's top model in 2023, showcases the brand's commitment to innovation and excellence.
One of Yamaha's standout features is their Kodiak 450 model, which boasts a 421-cc engine, a 3.7-gallon fuel tank, and a towing capacity of 1,322 pounds. With models like the Kodiak 450 and the high-performing YFZ 450R, Yamaha continues to prove why they are a force to be reckoned with in the ATV market.
Kawasaki ATVs
Kawasaki, another renowned Japanese ATV brand, is well-known for its technologically advanced ATVs. They offer unique features like TPO bodywork and 5-way preload-adjustable shocks that set them apart from competitors. Kawasaki's commitment to innovation makes them a top choice for those seeking cutting-edge performance and technology in their ATVs.
Although Kawasaki entered the ATV market later than some of its competitors, its focus on technology and advanced features has made it a strong contender among the top ATV brands. Riders seeking a blend of power, innovation, and reliability should consider Kawasaki ATVs as a top choice.
Comparing Performance Among the Top ATV Brands
Performance is a crucial factor to consider when selecting a brand of four wheelers. Polaris leads the pack with its largest entry-level collection and impressive towing, payload ratings, and rack capacity. Can-Am, on the other hand, offers a range of impressive specs, including suspension, fuel tank size, and a mid-size displacement engine in their Outlander series.
Honda's resilient and easy-to-use features make them a popular choice among sport ATV racers, while Yamaha's lightweight chassis and five-valve engine with high-tech parts showcase their commitment to performance. Kawasaki's one-touch all-wheel-drive/two-wheel-drive system and digital display give it an edge in terms of performance capabilities.
As you compare performance among the top ATV brands, consider which features best align with your riding preferences and needs.
Comparing Reliability Among the Top ATV Brands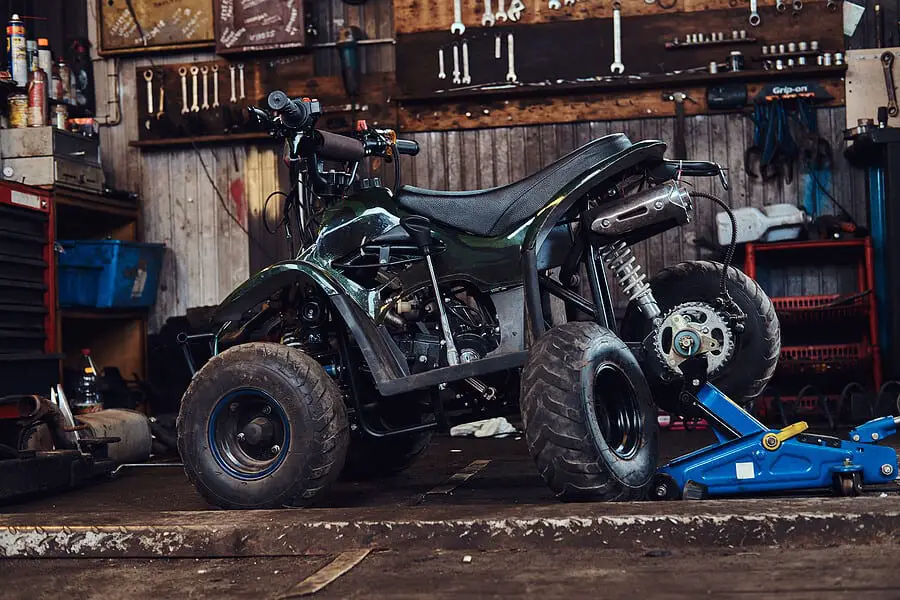 We just looked at performance, but a fast and powerful ATV that sits in the shop or collects dust in your garage while awaiting repairs just isn't any fun. Yes, reliability matters too. Especially if you aren't the most mechanically-gifted. So now let's consider the reliability of the top ATV brands.
When it comes to reliability, the top ATV brands each bring their own strengths to the table. Polaris is renowned for its dependable engines and long-lasting vehicles, while Can-Am is recognized for the power and durability of their quads. Honda, on the other hand, is popular for its safety and comfort features (as well as overall reliability), making their ATVs a great choice for various riding needs.
Yamaha's excellent performance records and lightweight chassis make them a trustworthy option. Lastly, Kawasaki's technologically advanced features, such as their TPO bodywork and 5-way preload-adjustable shocks, contribute to their reputation as a top ATV brand.
Comparing Cost & Value Among the Top ATV Brands
When comparing the cost and value of the top ATV brands, it's essential to consider the range of prices and the features you gain for your investment. Its also important to note that cost and value really should be analyzed at the model level more so than the brand level, since each brand typically produces models across the cost-value spectrum.
Generally speaking, most ATV models typically start at around $5,000 or just under that, with some models from Can-Am and Polaris reaching up to around $15,000.
Spending more on an ATV often results in additional power and features, making it crucial to weigh the balance between cost and value. If your a big guy (or gal) or plan on towing and really pushing your ATV on a regular basis, then it probably makes sense to shell out some extra cash for a bit more power. But if you are only planning to use your ATV in more of a light utility capacity, then this might be an excuse to save a few bucks.
Other Emerging ATV Brands to Watch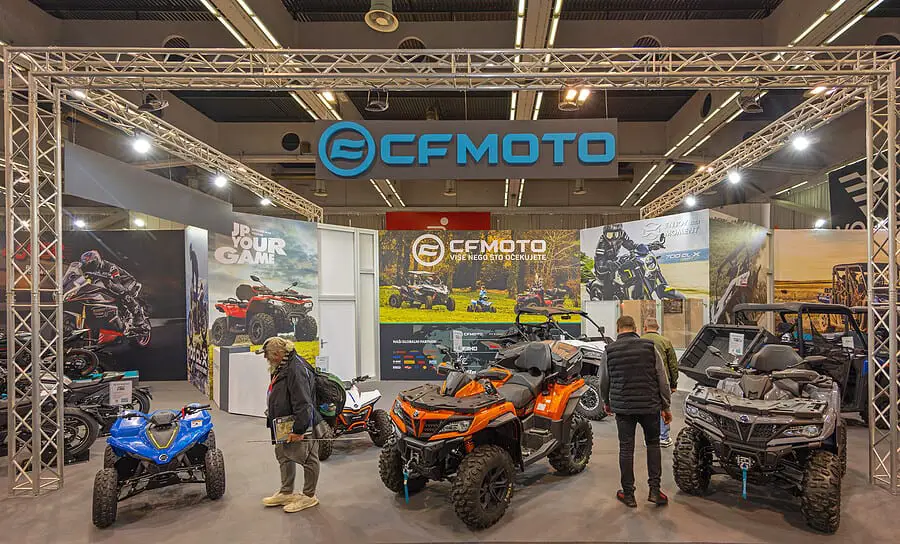 While the top ATV brands that we mentioned above continue to dominate the market, there are a few emerging brands that are worth keeping an eye on. Arctic Cat, SYM Motors, and CFMoto have been making waves in the industry with their innovative and high-quality ATVs.
Whether you're a seasoned rider or just starting out, exploring these up-and-coming brands may lead you to discover the perfect ATV for your needs. Let's take a quick look at each:
CFMoto
CFMoto, a Chinese manufacturer, focuses on producing affordable ATVs that don't compromise on performance. The lower labor costs in China mean good value for the money when shopping for a new quad. The company's CFORCE 400 model has a max power output of 31-hp and an MSRP sticker price of only $5,199.
Considering CFMoto's commitment to high-performance and reliable ATVs, they are definitely an emerging brand that ATV enthusiasts should keep an eye on.
Arctic Cat
Arctic Cat, a USA-based manufacturer from Minnesota, offers a diverse range of ATVs, from youth models to entry-level, utility, sport, single-rider, and two-passenger machines. Their ATVs are known for their reliability and popularity among sport ATV racers, as well as their power steering, improved performance, and independent rear suspension.
Arctic Cat's reputation for producing reliable youth ATVs, combined with their diverse lineup of models, makes them an exciting brand to watch in the ATV market. As they continue to innovate and expand their offerings, it's definitely a brand worth considering for riders of all levels.
SYM Motors
SYM Motors, known for their popular Quadraider and Quadlander series, brings unique features to the ATV market. Their Quadraider, a two-passenger utility ATV, is powered by a 4-stroke, liquid-cooled, 15-hp engine, while the Quadlander series boasts a powerful four-stroke, 20-hp engine with a liquid cooling system and an automatic gearbox.
One of the standout features of the Quadlander series is the low gear option, making it easier to tackle rough terrain. SYM Motors' combination of powerful engines and innovative features makes them an emerging ATV brand worth exploring for those seeking an alternative to the more established brands.
How to Choose the Right ATV Brand for You
Now that you have a comprehensive understanding of the top ATV brands and their offerings, it's time to choose the right brand for you. To make an informed decision, consider your specific needs, compare the features and prices of different ATVs, and test ride and research your options before making a purchase.
By taking these steps, you can confidently choose the perfect ATV brand to suit your unique riding needs.
Identifying Your Needs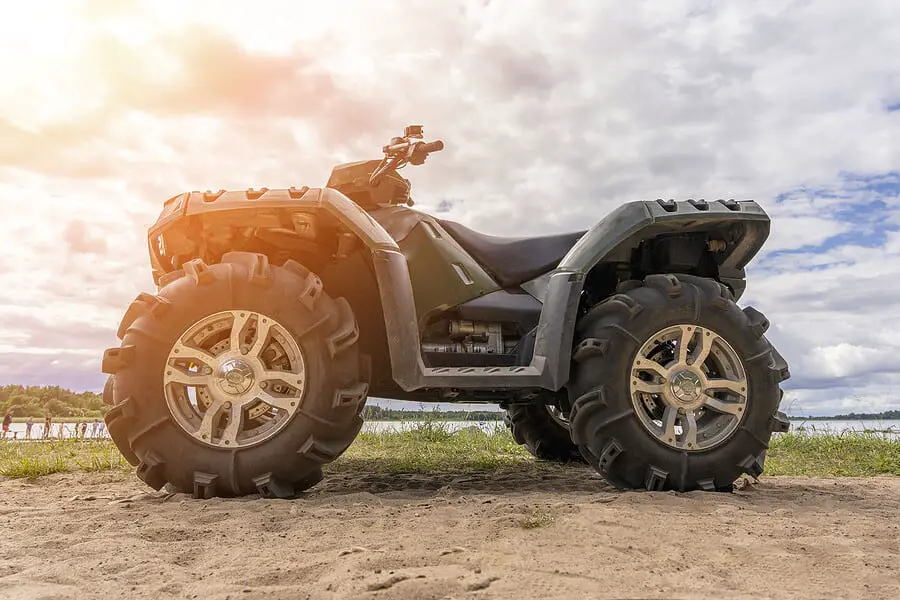 To choose the right ATV brand for you, it's crucial to first identify your specific needs. Different types of ATVs cater to varying purposes, such as sport ATVs for high-speed thrills, utility ATVs for heavy-duty tasks, and youth ATVs for young riders. Consider how you plan to use your ATV, whether it's for recreational riding, farm work, or racing.
Also, think about the number of passengers you'll typically have on your ATV and the total weight. If you mostly ride solo and you are a lighter person, then you need not worry much about payload, power and torque. But if you are a heavier person, plan to ride with a passenger, or plan to tow a lot – then those are all things to consider when evaluating the specs of each brand and model you consider.
By identifying your needs, you can narrow down the best ATV brand and model for your specific requirements.
Comparing Features and Prices
Once you've identified your needs, compare the features and prices of different ATVs to find the best value for your investment. Some key features to consider when shopping for an ATV include engine power, suspension, tires, racks and storage, and overall durability. It's also important to consider the size of the ATV in relation to the rider's physical stature, ensuring a comfortable and safe fit.
Test Riding and Research
Finally, testing riding and researching your ATV options is essential to finding the perfect fit. A test ride allows you to get a feel for the ATV, ensuring it meets your needs in terms of comfort, handling, and performance.
Summary
In conclusion, the world of ATVs is vast and filled with exciting options for riders of all levels. Polaris, Can-Am, Honda, Yamaha, and Kawasaki will lead the market in 2023, while emerging brands like Arctic Cat, SYM Motors, and CFMoto offer unique and innovative alternatives. By identifying your needs, comparing features and prices, and testing riding and researching your options, you can confidently choose the perfect ATV brand to embark on thrilling off-road adventures. It's time to hit the trails and conquer the terrain with your ideal four-wheeler!
Frequently Asked Questions
Which ATV brand is most reliable?
From reviews of customers and experts, Honda ATVs seem to be the most reliable brand. They have solid transmissions, metal gears, and can stand tough terrains. Furthermore, they are incredibly durable and reliable, especially when taking hard knocks.
Other great options include Kawasaki, Polaris, Yamaha, Arctic Cat, Argo, SYM, Can-Am, and CFMoto – basically every brand we've reviewed above!
What is the most popular ATV brand in the world?
The most popular ATV brand in the world is Polaris, who leads the category in terms of market share. Can-Am and Honda are second and third, respectively.