UTV s and ATVs are growing every year in popularity and many drivers would love to be able to drive theirs on state maintained highways. How cool would it be to just ride out to the trail from your house without having to load up or just ride down the road for a joyride. UTV s and ATVs from the factory are not legal to drive on state maintained highways or roads but with a few modifications, MOST states will allow you to enjoy the road from a legal standpoint.
UTV s and ATVs DO HOWEVER come with most of the necessary features to allow you to be street legal and they are all pretty easy to install so that your vehicle complies with local laws. 
ATTENTION: Every state has different laws and this serves as a guide to making your UTV or ATV street legal. You should ALWAYS contact your local DMV to make sure you have EVERYTHING you need!
So you want to know how to make a UTV or ATV street legal? Making a UTV or ATV street legal usually takes a few modifications like installing a license plate, mirrors, turn signals , horn, and having insurance. Each state has different laws so check with your local DMV. If you are looking for a complete street legal kit that checks all the boxes you need, then check out these kits from Amazon:
If you are looking for information on how to turn your UTV into a street legal side by side or street legal quad, then check out the tips and guidance we provide below.
General Requirements To Become Street Legal
In the states that allow a UTV or ATV to become street legal there isn't generally a lot that a UTV or ATV doesn't offer in order to make this possible but you will need to make some additions to your vehicle to comply with most laws and they include:
Rear View Mirror
Side View Mirrors
Rear Facing Tag Holder (With Light) & Tag
A Horn Audible Up To 250 ft
Front And Rear Turn Signals
High And Low Beam Headlight
Tail Light
Brake Lights 
Rear Reflectors
Mud Flaps
Windshield Or Suitable Eye Protection
Speedometer
If your UTV or ATV has some of these features then that is one less thing you will have to buy.
Street Legal Kits For UTV s and ATVs
Many companies sell street legal kits that come with all the different things you need for your four wheeler in one place so you don't have to go searching everywhere for individual items. These kits are great because they come with the majority of what you need like turn signals, license plates, switches, and mirrors. 
Other Requirements
If you live in one of the states that allows UTVs and ATVs to be street legal and your UTV or ATV is properly equipped, there are a few things you will need to take care of after your add on features. I can't stress enough that this is dependent on your local laws.
Your UTV or ATV needs to be able to pass the state safety inspection and possibly an emissions test as well.
If you are driving on a state maintained highway then you will more often than not, need insurance for your 4-wheeler.
Whoever is driving will need to have a valid driver's license. Motorcycle endorsements shouldn't be needed but should be something you verify with your local DMV first. 
You may not be allowed on all roads such as highways with high speed limits and highly populated areas. Again, check your local DMV!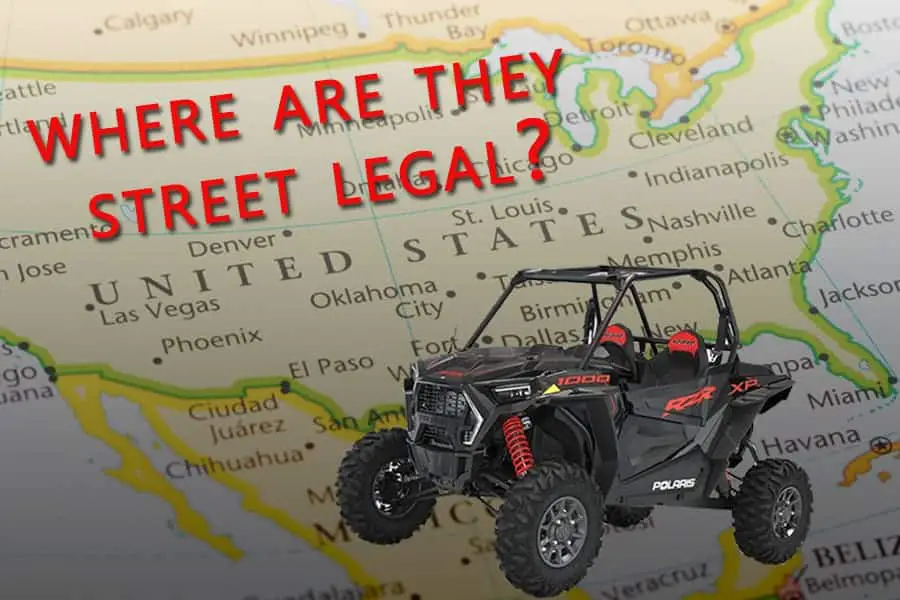 What Are The UTV or ATV Laws in Each State?
I have scoured every state law I could find to provide you with a detailed list of whether or not you can make a UTV or ATV street legal and what it takes to get you on the road. I have the websites for each state listed so please consult your state to save you a bunch of time and effort. 
Note that each state may vary its terminology a bit – calling the machine a 4-wheeler, four wheeler, quad, Side-by-Side, UTV or ATV. So just read carefully but also use a little common sense. When in doubt, you can reach out to the government agency if you need clarification.