The price for a UTV, also known as a side by side, or simply an SxS, can range from a few thousand dollars to just under $30,000. The different makes, models and years of the SxS will influence its price. Many people find it ridiculous to pay the same price as a Jeep for what is essentially a toy, as some consider the sport UTVs. Nevertheless, people keep buying side by sides, without any real regard for the cost. For a detailed list of UTV costs, I have written an article especially for you!
So, why are side by sides so expensive?
The main reason for the high cost is the improvement in the performance of UTVs and the increase in their available accessories, add-ons and luxuries. Another reason is simply supply and demand: the demand for SxS is high and companies are aware that there are people who will pay any price for the best performance and comfort.
The bottom line is that people will pay what they want to for toys, and a side by side is a toy for you to play with… a very expensive toy for some.
When it comes down to spending a lot of money for your toys, you want to make sure that your toys are protected, and the best way to do that is to make sure you use and all weather cover to keep your UTV out of the elements, or store it in a building or garage.
Why Are Side by Sides So Expensive?
There are several reasons for UTV side by sides being so expensive but the main ones are listed above. We will look into detail a bit more and cover the demand, performance, and accessories that all play a role in why are side by sides so expensive.
Take a look at the answers below to help you gain a better understanding of these reasons:
Why Is There Such A High Demand For Side By Sides?
There are 3 types of side by sides. Each type has a different kind of use, which means each type has its own client base. As a result, UTVs have an already broad audience. The uses are as follows:
Utility UTVs: This type of side by side is perfect for towing and hauling large items. You will often see them on job sites and on farms. These UTVs are usually relatively basic. They will have doors and roofs as a default but will not have any performance modifications. 
As they are the perfect vehicle for farm work, it is easy to understand why the demand is consistent, if not rising. As they are necessary, manufacturers can increase the prices, knowing full well farms will continue to purchase them no matter the cost.
Sport UTVs: This type of UTV is the one that has seen a spike in popularity in recent years. These side by sides are made to withstand any obstacle in their path with almost no difficulty—all while speeding down the track. They do not serve a practical purpose and are really just for fun.
Generally, sport side by sides will be the most expensive due to their performance. Skip to the following subhead for more on performance. 
Sport Utility UTVs: This type is a mix of the first two to be both practical and fun. Sport Utility UTVs share a similar purpose with ATVs, but, since they can carry more than one person, they are popular with families. By seating between 2 and 6 people, the UTV market has allowed its audience to expand to these families which would otherwise remain home.
The added doors and roof increases this audience further as people with safety concerns for ATVs are more inclined to feel safe in a side by side. Most UTVs will automatically come with a windshield that offers an extra layer of protection. 
Being able to perform off-road while letting you feel safe goes a long way in convincing people that UTVs are worth the cost.
Why does Performance make a Side by Side Expensive?
Over the last 10 years or so, the performance of sport side by sides has more than doubled. This improvement can be seen in the form of bigger tires, powerful engines easily hitting over 100 horsepower and, most importantly, more inches of suspension travel. 
These vehicles are specifically designed with performance on any type of terrain in mind. That being said, these improved features all come at a price. Most vehicles won't let you haul butt through whoops while barely feeling them. Side by sides let you do this because of their bigger more expensive tires, suspension capabilities etc.
Keep in mind that it is not enough to simply change the tires. You also have to improve all the components that come with it: the axels, the transmission tuning, etc. This, too, ultimately costs more money. You can also add a set of portals to lift your UTV. Don't know enough about portals? Then check out this article I wrote.
In short: the parts cost more, and so does the whole UTV as a result.  However, when looking at side by sides more in terms of value and not just a price tag, it's easy to see that they are worth every penny (if you can afford it). As mentioned above, many people will opt for getting a Jeep instead of a UTV at a similar cost. These people usually fail to see that they are making a false comparison.
It would be more accurate to compare side by sides to trophy trucks. Trophy trucks are used in off-road racing. Most trophy trucks offer just 5 to 10 inches more of suspension travel than UTVs, while costing a whole lot more.
The most expensive UTVs will cost about $30,000. Meanwhile, your average trophy truck will cost between $500,000 to $1,000,000. 
Getting a side by side is closer to getting a trophy truck than a Jeep, though only at a small fraction of the cost of a trophy truck with all the fun.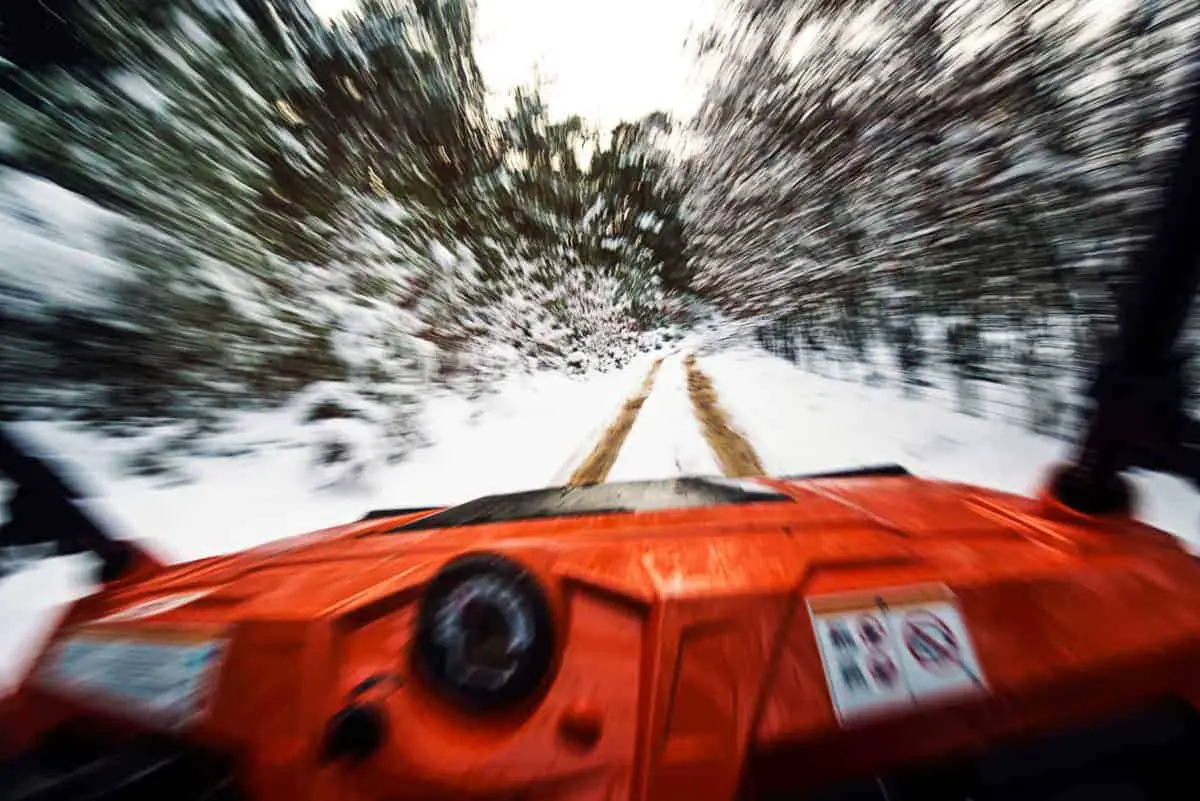 What Accessories and Comforts make a Side by Side Expensive?
Any changes you make to your basic side by side will, naturally, cost more money. 
Windshields: This accessory will not be included on all makes and models, but is a useful addition. When you're driving through mud, sand or streams, an extra layer of protection is always nice. Even if you have a windshield, it is still recommended to wear goggles and/or a helmet.
Seating: While ATVs require you to have your legs spread apart, UTVs seating is similar to that of a car. You can always modify the seating in your UTV to be more comfortable. Getting seats with higher density foam is good for lumbar support and bump absorption. Seats with mesh will dry faster after it rains or you drive through a stream. A 5–point harness instead of the basic 3-point harness will help keep you in place in your seat.
Street Driving: While most ATVs and UTVs can only be driven off-road, you can modify your side by side so that it can legally be driven on-road. This involves having features such as brake lights, headlights, seat belts, mufflers, and so on. Some places even sell kits to make your UTV legal. UTVs nowadays usually already come with most of these features. You'll just have to make sure to check what your state requires. 
Lightbars: LED lightbars will improve visibility whether you are trying to see past the sand in the desert or in a forest at night.
Roof Rack
Muffler Sound Reducer
Many more
In the past, side by sides were used almost exclusively as utility vehicles. People would purchase them and spend thousands of dollars transforming them into luxury sport vehicles. By going directly to building them as sports vehicles, manufacturers have made it easier for people to get just what they want without much more than making the payment.
Ultimately, UTV manufacturers have made it hassle-free and increased performance to never before seen levels. The price is the parts, the performance, the easy and the luxury of it all.
Check Out My Favorite Gear:
Item
Motif V3 Off-Road Motorcycle Helmet (Men's)
Comp X Motocross Boots (Men's)
Other Great Articles