Hunting season comes around once a year and no matter what type of game animal you hunt, you will probably want to take your ATV out to your favorite hunting location so you don't have to lug all your gear and possibly your next dinner.
You don't have to mod your quad at all to go hunting but there are many great accessories that will aid you in hauling, storing, and will make for a much more comfortable ride into the woods. Riding an ATV out to your desired hunting ground should be something that makes your life easier and keeps you from having to a lot of extra work in order to set up your day.
If you are planning on taking your ATV out this hunting season then there are a few mods that you need to install on your quad and some that you don't need, but are quite nice to have. Once you have these mods installed, you will be hunting in style and enjoying every minute of it.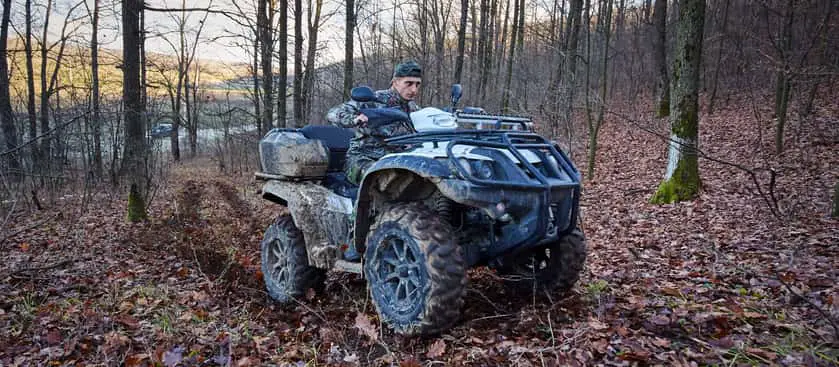 1. Replace the Tires 
I always suggest tires as the first modification on any ATV. Stock tires will do fine for regular riding but you will want tires that will suit your riding environment and terrain. Chances are when you are riding deep in the woods to your favorite hunting spots then you will encounter lots of mud, stumps, tree limbs, and all kinds of other obstacles.
If you don't have the right tires then there is no way you will be able to make it through the mess in the backwoods. Tires with better grip and deeper tread will allow you to traverse more and more terrain.
2. Get Some Beadlock Rims 
Along with tires comes a good set of rims to fit those tires. You want to grab a set of rims that have beadlock technology on them. A beadlock is a mechanical device that actually holds the tire in place on the wheel of your ATV. This design uses tire pressure to push the bead of the tire up against the wall of the rim or wheel and they rotate together.
When riding over trees and other large obstacles, beadlock rims will keep your new tires from coming off the rim if you happen to hit them hard enough that this would normally happen. If your tire separates from the rim then your hunting day will be prematurely cut short.
3. Exhaust Silencer to Sneak to Your Hunting Spot
ATVs have combustion engines and those engines obviously make a lot of noise. Silence is crucial when hunting but it also is when approaching your hunting location. Driving up and making a lot of noise with a loud ATV is sure to scare away anything in the vicinity making it less likely for you to have a successful hunt.
Many companies sell slip-on silencers to quiet down the noisy exhaust by up to %50 and don't increase back pressure enough to cause any problems. If you have too much back pressure that does not allow exhaust gas to escape and will rob your engine of the performance you need to power through the trails on your way to your hunting grounds. If you want to know exactly why ATVs are so loud then check out this article I wrote that explains everything you need to know.
4. Camouflage Graphics to Conceal Your ATV
This may not seem like a needed modification for hunters but I assure you it is. If you are a turkey hunter then you know what GREAT eyesight they have. If your ATV doesn't blend into its surroundings then you may not have a very successful hunt.
You should be able to apply camo graphics yourself but if you don't feel confident, you can always get a local shop to take care of it for you. The good thing is you can buy custom graphics that are machine specific and they aren't very expensive.
5. Storage Racks are a Good Option
At a bare minimum, and depending on your gear, you should have front and rear racks installed on your ATV. These racks are super helpful for hauling most of the gear you need to bring with you. It is very simple to throw your gear on the racks and just bungie or ratchet strap it down and take off down the trail.
The downside to regular racks is that you depend on a couple of straps to hold your expensive gear down and one wrong turn or slam against a large object like a rock, and you might have your stuff tumble out and get damaged. It is hard to actually lock up your gear on a set of regular racks as well.
6. Get Yourself Some Rack Boxes
Now if you want your gear to be secure and make sure to protect it from the elements such as rain, mud, and snow then you need to get a rack box or two. Rack boxes are a great addition because they serve several purposes. Protection from the elements AND you can lock them. Amazon has some great options and I really like this one.
You may be deep in the woods but you never know who is around your ATV and you want to try to keep all your gear as secure as possible because some people look for any opportunity to make someone else's property into theirs. Rack boxes also add some extra weight on the ATV so you can get a little more traction in some of the more loose terrain.
7. Install a Firearm Carrier
Several companies have designed holsters especially for rifles that either bolt on to your ATV or attach to it in some way off to the side. These holsters are very advantageous because they don't take up extra space on your racks and make them easily accessible if you happen to be riding and see the perfect shot on the game you are hunting.
These carriers are made of tough, impact-resistant materials and will keep your gun safe from the elements as you venture into the countryside. They also protect the delicate scopes attached to your rifles and will keep anything from bumping them on your way out for the day.
8. Install LED Headlights and Light Bars for Safety
The hunting day does not end just because the sun has gone down. Hunting at night is illegal but it still may get dark on you before you can ride out of the woods from a long day of hunting. LED headlights and LED light bars will help illuminate the trail in front of you making easier to find your way home. Brighter lights are a safety feature that not only allow you to see better but also allow you to be seen by other riders and people on the trails even if you don't see them.
Most stock ATV headlights barely light up the trail in front of you so if you don't get some light bars, then at least get a nice bright set of headlights. This also applies to early mornings. When I used to deer hunt we were always out in the stand well before the sun came up and brighter headlights on my ATV would have been very helpful for me.
9. Purchase a Drop Basket
If you don't put rack boxes on your ATV then the next best thing is a drop basket for the rear side. A drop rack is a rack that drops down and has a little cubby for you to store your gear in. It is perfect for holding things like a chainsaw to cut up any fallen logs that are blocking your path.
You can also install covers over the drop basket or throw a seat over it so it serves dual purposes by acting like a trunk similar to what is found on a car.
A drop racks basically serves as 3 racks in one because it has a regular style rack on the front, and the drop down cubby in the back. Most drop racks also have a fold down gate that allows for easy removal of your gear.
10. Invest in a Power Loader
For those that aren't spring chickens or don't want to lift several hundred pounds up onto their ATV to travel with, a power loader is an essential tool in not only saving time, but saving your back as well. Power loaders are platforms that are powered by your ATVs winch and allow you to lift heavy objects into a stationary position.
If you hunt deer, moose, elk, or any other large game then this tool will make things so much easier. If you are using your ATV on the farm then you can also use a power loader to pick up hay bales, firewood, and sacks of feed to transport them around with no effort at all. Power loaders are the forklifts of the ATV world and are one recommendation I would consider over any others, especially if I needed to lift something heavy.
11. Install a Winch
If you decided to get a power loader for all that heavy lifting you are going to do then you will need a winch to accompany it. Winches are super essential for almost any 4WD Utility ATV and serve many purposes. The winch is the biggest workhorse, other than the ATV itself, when it comes to jobs being done.
A winch is a steel braided cable hooked to an electric motor. You connect this cable around a tree when you are stuck and use the electric motor to pull your ATV out, allowing you to continue into the woods to your favorite hunting grounds. It is also used in conjunction with a power loader and gives the power loader the lifting force it needs to lift heavy objects.
MotoAlliance VIPER Midnight ATV/UTV Winch (4,500 lb)
SuperATV Complete Black Ops Winch Kit (4,500 lb)
WARN 101040 VRX 45-S Powersports Winch w/ Synthetic Rope (4,500 lb)
12. Get Fender Bags for Frequently Used Items
Fender bags are really cool because they allow you to have extra storage on the sides of your ATV without having to take up valuable space on your racks or in your rack boxes. The usually attach to the back side of the front fenders and can zip up. These bags are great for storing your food and drinks or your delicate electronics that you don't want sitting out on the racks or rattling around in a big plastic rack box.
They also provide easy access for those items that you use on a regular basis. Make sure you get a camouflage pattern that will match the camouflage graphics you have on your bike tio minimize the chances of the game seeing your ATV sitting near you when you hunt.
13. Purchase a Rear Seat With Extra Storage
Bringing someone to hunt with you is the most fun thing about hunting. Mostly because you can have your buddy there to back you up when you tell all your friends about that giant 12 point buck that got away or maybe you want your significant other to come enjoy the hunt with you. For me, I like to have a padded rear seat so my son can come along with me and learn how to hunt.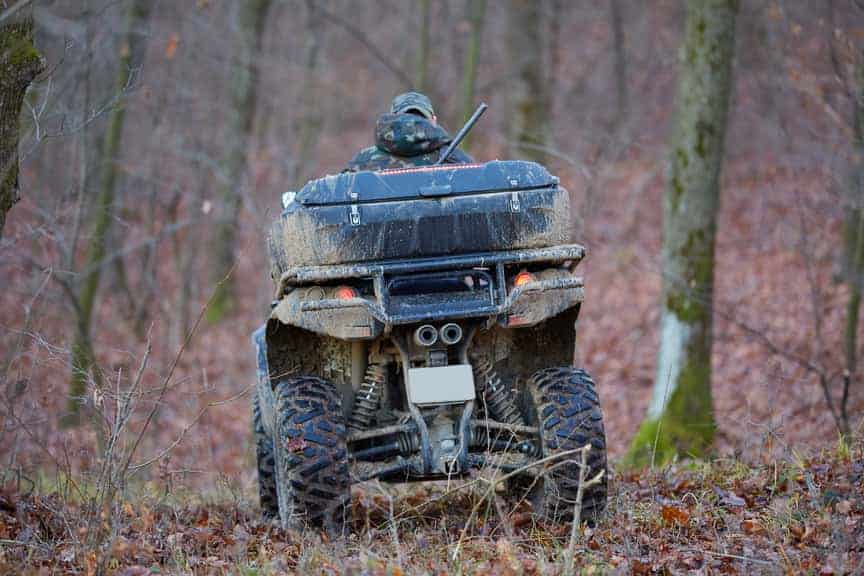 Rear seats come in a lot of options and they will provide comfort for the passenger that is riding on the back. The seats have backrests on them and attach to the rear racks meaning they shouldn't fall off when the rear passenger is riding around with you.
Another cool feature is that most rear seats for utility ATVs also come with plenty of storage! That's right, you can bring a passenger AND still store stuff so it is a win-win.
14. Get an ATV Cover or an ATV Blind
If you don't want to install a set of camouflage graphics on your ATV, you can get yourself a nice cover with a camouflage pattern on it and cover up while you are sitting there waiting for your game of choice to come strutting by. A cover that matches the surroundings will ensure that the features of your ATV such as the black tires and metallic parts don't stick out like a sore thumb to those animals with keen eyesight.
There are also blinds that you can set up right on top of your ATV. If you don't want to venture off the ATV, you can get a pop up blind and sit right there where you decided to park the ATV. The only thing I don't like is that having to sit for long periods of time without moving straddled on an ATV because it will get uncomfortable. These are still an option however, especially if you move to different locations a lot when hunting.

What is the Best ATV for Hunting?
It is all a matter of opinion as to which ATV is best for hunting but any ATV that can make your hunting trip easier by carrying gear or doing heavy lifting will definitely be a great ATV for hunting.
In the end, it all comes down to what you want and what you need out of an ATV to make hunting a little bit better. I would recommend any of these mods if the situation applies to you because they make going out for a hunting trip a pleasure. I used to hate driving my truck out to the road where I needed to be and then having to hike a mile back in the woods because my truck wouldn't fit. Now with an ATV, that is no longer a problem.