UTVs and Side by Sides have become interchangeable in today's society. Sometimes it is hard to tell what someone is actually talking about when they are trying to describe their favorite 4 wheeled vehicles. Once you realize that both terms are basically the same, you can decide which one you want to use, or both if you choose to do so.
So what is a side by side? And is it the same as a UTV?
UTVs (Utility Task Vehicles or Utility Terrain Vehicles) and side by sides (SxS) are basically the same thing. They are often called side by sides because they can seat 2 people side by side in a single row.
With the boom of UTVs that hit the power sports world there has been different terminology thrown around for UTVs and each of them basically means the same thing. Many people just use the model names, others say UTV, but I find the majority of people say side by side when they are referring to these machines. I call them UTVs because not all of them are actually side by sides according to the definition. Let's explore a little bit about the history of the UTV and dive into what each type is and what it is used for.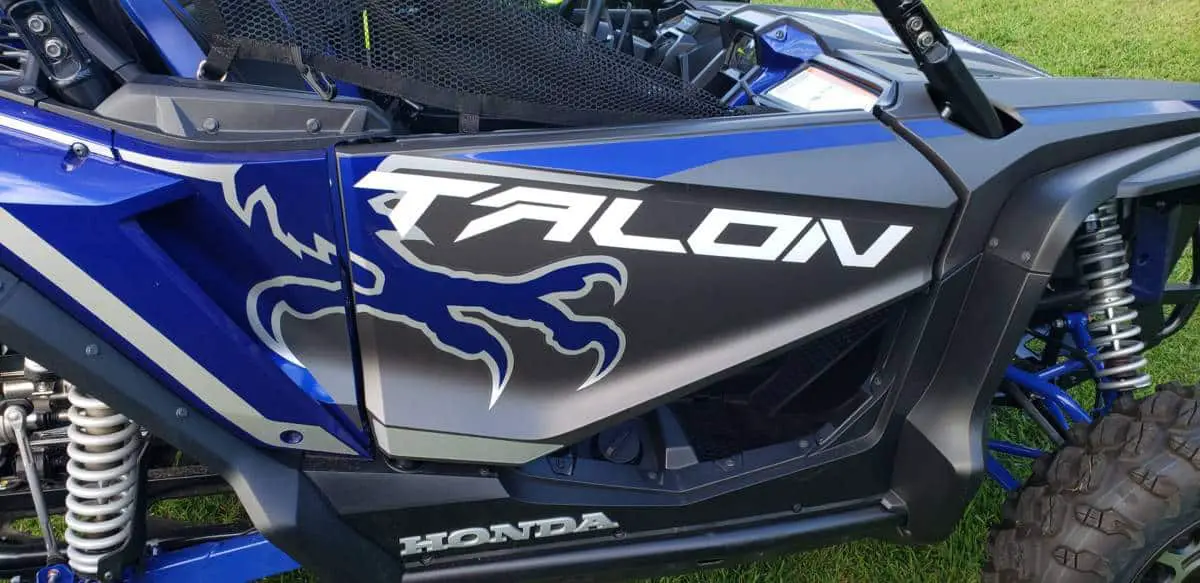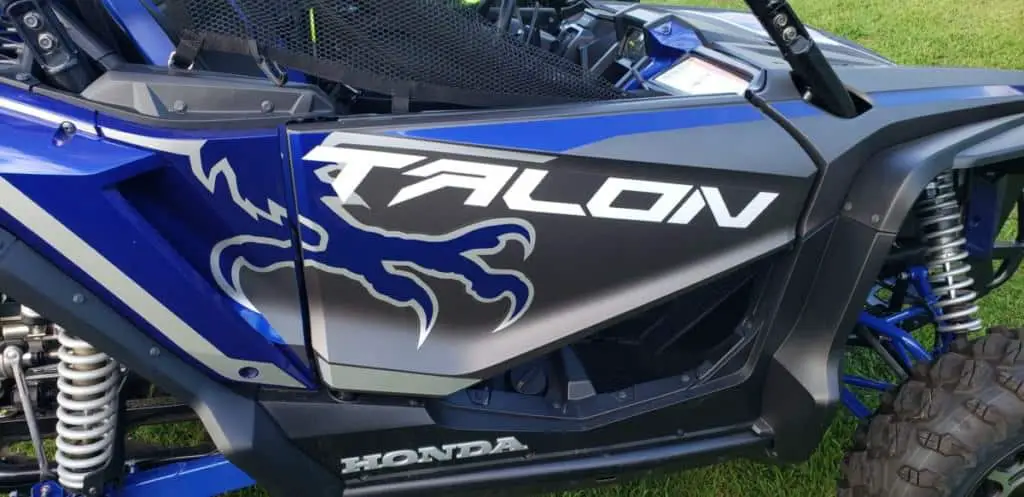 I personally like to refer to UTVs as Utility Terrain Vehicles since I have been riding ATVs (All Terrain Vehicles) for so long, that has become my interchangeable term. But what exactly is a side-by-side?
What is a Side-By-Side?
A Side-by-Side (SxS) refers to any UTV that has seats next to each other – i.e. side-by-side. This is fairly common with UTVs, but is nonexistent with ATVs.
So is the term completely interchangeable? Are all UTVs considered side by sides? Well, not in my book! This is because there are a few single-seater UTV models available and thus no seats "side by side".
UTVs Compared with ATVs
UTVs are similar to ATVs but sit on larger frames and have features like roll cages, windshields, steering wheel, and foot pedals like a car. UTVs also have seats with seatbelts and can carry passengers and haul items in the bed area. If you want to check out more on the differences between a UTV and an ATV, I wrote about it here.
A UTV is sometimes seen on golf courses, while hunters and farmers use them for all types of tasks including hauling and towing. UTV racing is also a thing now and has started to become very popular. Many people are trying to get into UTV racing. 
Major brands of UTV on the market come from manufacturers that include:
A Brief History Of The UTV
Have you ever wondered which machine was the first ever UTV? That can be rather murky based on how strict the rules are for proper classification. However, many people say the first side by side off-road vehicle was the Lockley Wrangler in 1970. It fit the classification for a side by side when it as produced.
The Wrangler did not have suspension and was basically a fiberglass tub that was meant to be able to go on land and water. It did not have any suspension on it, only a steering column to allow it to turn either left or right. Having no suspension kept any unnecessary holes from being put into the tub portion of it that would jeopardize its ability to stay watertight. It had a straight rear axle with a shaft and drive sprocket mounted above the waterline. The chain ran from the drive sprocket, down to the axle where it propelled the wheel sprocket. 
Types Of UTVs
There are 3 types of UTV side by sides out there and they all serve different purposes and have different uses. Each UTV can serve the same purpose as the other 2 types but do better in their specified role. The main thing when you want to purchase a side by side is to know what you will be using it for to narrow down your search. Most side by sides come with basic features like seat belts, doors, and windshields(link to Amazon).
Sport UTVs
One of the fastest growing parts of the UTV market are the sport UTVs.  These models are designed and tuned from the factory to go as fast as they can and to do over terrain with little to no effort. From the frames, to the engines, all the way to the shocks, are being design to push performance as far as it can go.
These models won't be doing any kind of towing or hauling of much of anything. The backs are super small and not really made for anything substantial. If you want to be able to two or haul anything with these models then you are going to have to look at other options because there is simply no room on most models.
I was looking at a Honda Talon today and that thing had maybe 3 ft by 2 ft of space in the "bed" area.
Performance models are easily the most obvious to distinguish from the others, they have huge suspension, making them wider, allowing for larger tires. Larger engines also don these model because their performance is top notch and reach over 100 horsepower easily. The suspension travel on modern UTVs is crazy and can reach feet instead of inches like days gone by. 
Utility UTVs
Utility UTVs do exactly what the say, they provide tons of utility. These are the workhorses of the crew of side by sides and often come with a stable of accessories to accommodate any job. These are the guys that you remember from back in the day when the Kawasaki mule was just two seats, a roll cage, and a dump bed for hauling stuff around the farm.
Many companies use utility models on job sites and for general transportation because of their ease of use and many functions. These often come with winches, large payload capacity for the bed, and smooth riding shocks and suspension when hauling those heavy loads. All in all, if you have a lot of work to do or need to haul or tow, then the utility route is the best for you.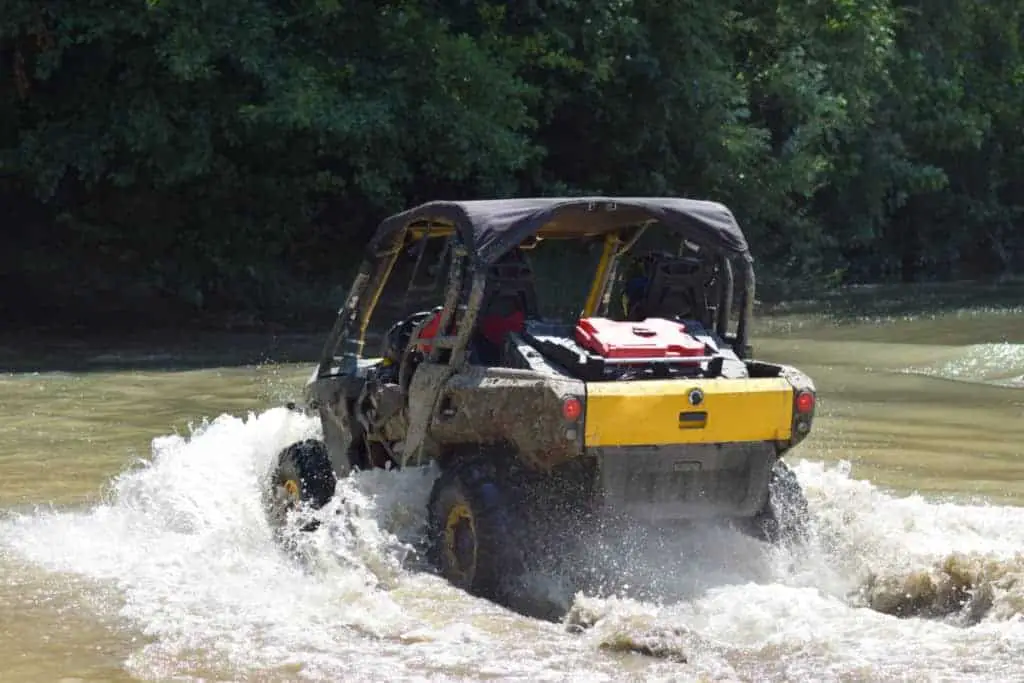 Sport Utility UTVs
Sport utility UTVs blend both of the other types together for a vehicle that can do a little bit of everything. The sport portion means that they have better shocks and more speed for riding around on terrain at a faster speed. This allows for a more comfortable ride and makes things better overall for you as the driver. Most sport utility side by sides have 4 or even 6 seats with 3 wide bench seats in the front and back. This is great if you have a family and you want to take them all off roading in one vehicle.

Does Anyone Make A Single Seat UTV?
Polaris actually makes two different one seater models of side by side, well UTV, since there is no side by side in them. The Polaris ACE is the youth model one seater and the Polaris RZR RS1 is the more race enthusiast style of single seater.
Fun fact: In 1976 Honda released their single seater "UTV" called the Honda Odyssey and it is eerily similar to the UTVs of today.
Why Should I Buy A Side By Side UTV?
Most UTVs are not a cheap purchase to consider and can take a big chunk of money out of your paycheck. Many people think that the price of entry is entirely too high to even get started. UTVs have been around for a decent amount of time now and there are many of them on the used market that sell for decent prices. You can find a used model or even a cheaper chinese version for under $10,000. 
The good thing about UTVs is that they are specifically built to go off road. Whether it is to haul gear or anything else, or to take your family on the trails, or to race as hard as you can at your local track, they all serve their purpose very well. They also provide a lot of family fun and general safety. I wrote an article about UTV safety you should check out right here.
Wrapping Things Up
I am currently in the market for a UTV so I did some digging at my local power sports dealer and decided I am going to get a UTV that my family can all have fun in and the ultimate decision for me is to pick a sport utility UTV. Not too fast, and they have plenty of room for me and my family for many years to come.