2008 saw a massive undertaking occur from many of the world's leading brands of power sports manufacturers and little did they know how it was going to rock the off roading industry. Top manufacturers delved into the sport ATV world and started producing UTV side by sides that would appeal to a broader audience in an attempt to gain more sales. This was a great experiment at the time because no one knew what these newer style of UTVs were going to do with ATVs sitting at the peak of their sales and popularity. UTVs were about to blow up and gain national, and worldwide attention when one of the most popular UTVs was released to the public. So why are UTVs so popular?
UTVs are so popular because they have distinct advantages over other 4 wheeled off road vehicles. They have a small footprint with great power to weight ratio, can carry passengers, which families enjoy, and provide more safety features than vehicles like ATVs.
The phenomenon that is the uprising of UTVs is steadily increasing and as there is more demand for these vehicles, more and more innovation and design will emerge in order to capture more of the market. As an ATV fanatic, I have to say that I was hesitant for a long time to even try out a UTV but I just recently test drove a Honda Talon and I may be a partial convert. Side by sides are FUN!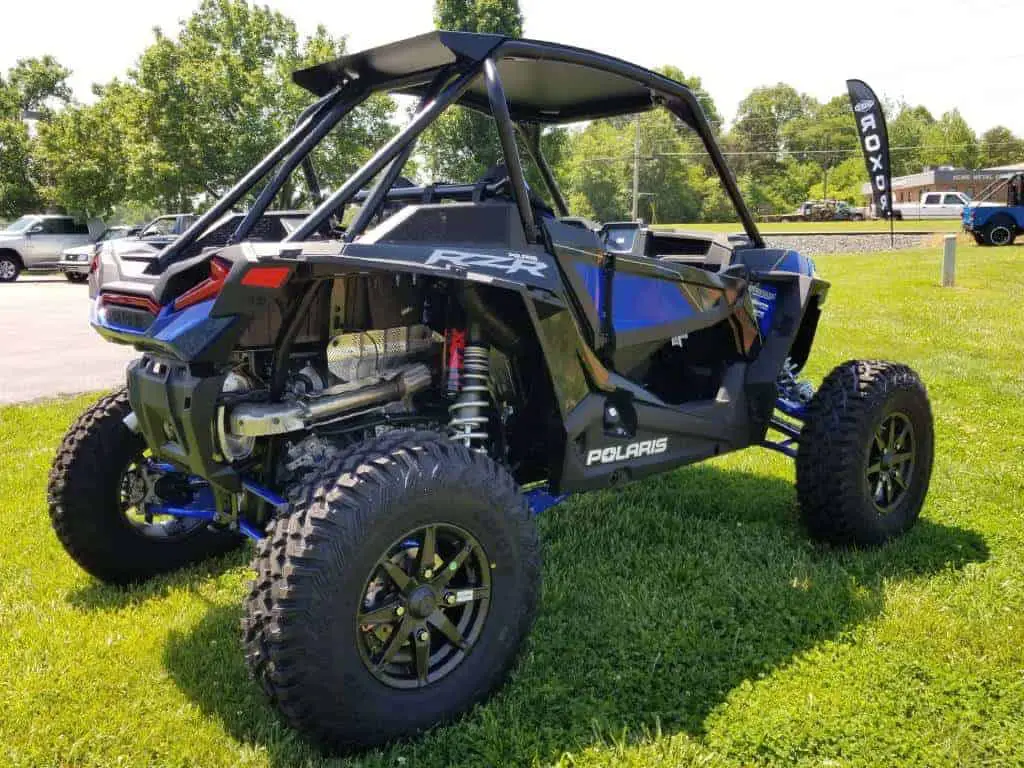 I can now see why they are so popular and have done a little more digging by talking to my local power sports dealer and have learned a few new things that make me want a UTV of my own. I even noticed that Amazon sells UTVs, that's right, they will ship one right to your door!
Evolution Of UTVs Over Time
Before we continue, you need to understand that UTVs weren't always as popular as they are now. As a matter of fact, most UTVs weren't even designed for the same type of uses as some of the most popular models are today. By standard definitions, the 1970 Lockley Wrangler was the first UTV ever made. If you want to learn more about it, check out this article I wrote.
In 1988 the Kawasaki MULE concept with a pick up truck style revolutionised the lightweight utility vehicle. It came equipped with a liquid-cooled 454 twin-cylinder engine mounted in an open-cab utility chassis with independent front and rear suspension. It had rear differential lock and with its introduction, the MULE 1000 utility vehicle was propelled into the spotlight of success. These vehicles were meant for utility work and the MULE stood for Multi Use Light Equipment and was the perfect vehicle for light duties around the farm and on job sites.
Many companies built on the success of the MULE and when the Yamaha Rhino came out as a highly customizable UTV, it hit the ground running.
When Did The Boom Occur
It wasn't until 2008 when the side by side UTV market really took an amazing turn when the Polaris Ranger RZR was released. The Yamaha Rhino gets some of the credit for getting the ball rolling on sport UTVs with how customizable it was but it was the RZR that made UTVs leap forward.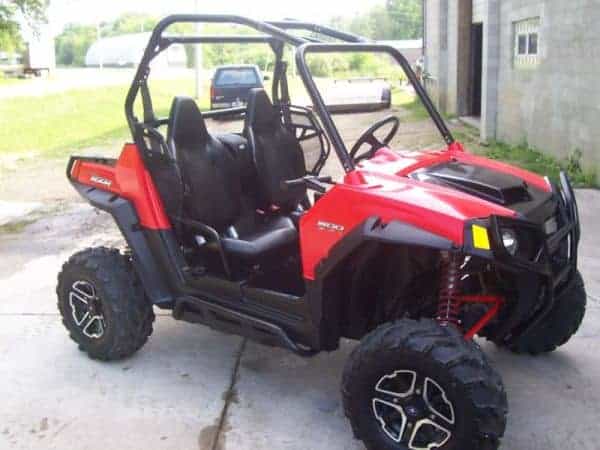 When the Ranger RZR was released it boasted lower seating height, a more powerful engine, and better suspension travel which made this ideal for the sport enthusiasts that wanted to go faster than what old UTVs like Rhino would go. Fast forward over a decade later and the UTV industry is actually booming and going strong. So many advancements and improvements have been made to allow UTVs to go faster, haul more gear, and be even safer for the occupants.
Availability Of UTVs All Over The World
With the ever increasing popularity of UTVs they have been sold all over the world. Major manufacturers are selling them everywhere they can so the availability of these machines can put them in the hands of just about anyone. 
I was down at the local power sports shop yesterday and they had at least 25 UTVs in the showroom and outside on display by the highway. Even Amazon sells UTVs and UTV accessories and they have a large selection.
They Can Go Anywhere
Hunting – The accessories that are available for UTVs for hunting are crazy. You can get gun racks, bow racks, camouflage covers, noise reduction exhausts, powerlifters, and just about anything else you can think of for hunting..
Agricultural – UTVs have plenty of farming and agricultural accessories as well. You can get mowers, hay dollies, cultivators, plows, tillers, harrows, sprayers, livestock feeders and power loader attachments. On top of this, you can still haul or tow just about anything that is a reasonable weight with a much smaller vehicle than a truck.
Rock Crawling – Rock crawling is not for the faint of heart. You will need to make sure you outfit your UTV with the best and safest gear around. You will need suspension seats with 4 or 6 point harnesses, tires, safer and stronger roll cages, skid plates, rock sliders, high clearance A-arms, stronger axle shafts and a winch for when you get into a jam.
Mudding– Mudding rigs are fun to watch for sure. You will need to get tires with aggressive tread, beadlock rims, a winch with a snatch block, lift kit, and extreme angle axles.
Racing – The racing scene is getting bigger and bigger as the years go by and the more people start to make their rides faster. Go to a local track and you will see what I mean. You will need 4 to 6 point harnesses, suspension, and all kinds of other goodies if you want to keep up with the rest of the crowd. Upgrading for racing is full of possibilities from engine work to aftermarket parts.
Riding In The Snow– You can get tracks to put on your UTV to make it a glorified snowmobile if you want, or you can just plow snow out of your driveway each winter. You can get cab enclosures and heaters to make sure you stay warm in the frigid winter months.
Trail Riding – Trail riding is the most fun to me because it has a wealth of different terrain and obstacles to mess around with. You will want to upgrade some parts, or you can just go bone stock but the one thing you NEED to add to your ride is a winch in case you get stuck somewhere. 
Different Sizes And Purposes For UTVs
UTVs come in all different flavors and sizes. You can find a UTV for almost any occasion. There are smaller engine and frame sizes for children and more adult centric models that most anyone can drive and have a good time.
There are 3 types of UTV out there and they all serve different purposes and have different uses. They are:
Sport UTVs
One of the fastest growing parts of the UTV market are the sport UTVs.  They are designed and tuned from the factory to go as fast as they can over terrain.
Performance models are easily distinguishable because of their suspensions and mean aesthetic looks. Larger engines also mean that these are some of the fastest models around and are used for racing, dunes, and general trail riding at higher speeds. These are the very fun UTVs in my eyes.
Utility UTVs do exactly what the say, they provide tons of utility. These are the models you want to choose when you want to get some work done. They can tow, haul, push, and pull almost anything you need for the size they are.
Utility models are used on job sites and for general transportation because of their ease of use and many functions. Winches, ability to haul heavy loads, and great towing capacity are features on most of these UTVs.
Sport Utility UTVs
Sport utility UTVs blend both of the other types together for a vehicle that can do a little bit of everything. They have better shocks and more speed for riding around on terrain at a faster speed. They are more comfortable to ride in and make things better overall for you as the driver. Most sport utility side by sides have 4 or even 6 seats which is ideal for family rides.
Huge Power To Weight Ratio
UTVs have a smaller footprint than the larger vehicles and makes them almost as easy to store and transport as an ATV. The smaller footprint also allows them to have smaller engines but still maintain a great power to weight ratio which will allow them to go faster and move through tighter spaces.
Unrivaled Suspension Travel
The amount of travel in these machines suspension is crazy and they can absorb so much energy transferred from the terrain to the riders to make sure you get the smoothest ride possible. Granted you are going to be on bumpy terrain so it isn't going to glide like a Cadillac or anything.
Ability To Carry Passengers
The ability to carry passengers has to be one of the biggest draws to these machines. The fact that you can buy one vehicle and carry up to 6 people for a day of fun means that everyone can participate. I remember the days of having to share ATVs and dirt bikes because there wasn't enough to go around, but no more with UTVs on the scene.
Safety Features
UTVs come with lots of safety features to enhance and ensure that the riders are as safe as possible in any situation. These safety features include:
Seats with seat belts
Rollover Protection Systems
Doors
Windshields
Headache Racks
Headlights
UTVs Vs ATVs
Let's take a quick look at some of the things that separate an ATV from a UTV. This is just a quick list but if you want to see more differences, I did a detailed write up on the differences between the two here.
Ability to carry multiple riders comfortably
Steering wheels are much like driving a car so people feel more comfortable driving a UTV
Rollover Protection Systems, doors, and seat belts add to the safety of a UTV
More capacity to carry anything from gear to bales of hay
Longer suspension travel makes the ride much smoother
Ability to add cab enclosures and heat or air conditioning
Higher payload and towing capacity
Typically higher resale values
The UTV Vs The Dune Buggy
Back in 2009 when I was riding the dunes you would always see the dune buggy guys tearing up the sand and I never really understood why they wanted to ride those when there were ATVs and dirt bikes for much cheaper and were much more fun. Dune buggies have a very steep price point new, but used dune buggies go for about the same as a new UTV today. 
UTVs are more affordable and can be hauled easier. Dune buggies still have their place for those enthusiasts but UTVs reach a much larger and broader crowd.
UTVs Are Better For Families And Are More Kid Friendly
UTVs are a lot more kid friendly and parents are willing to let their children drive the smaller engine sized UTVs and ride along which makes for a much more fun and eventful time. Watching your kids enjoy everything outdoors and sharing it together is a big selling point for families. Appealing to families means more people get into powersports as well so not only does it make manufacturers more money, it brings more people in which keeps the sport growing.

UTVs have become a huge success and it isn't hard to see why. There are so many reasons why UTVs have been continuously moving upwards in their trajectory. If you are thinking about going out and getting a UTV, then now is the time. I know I am certainly in the market for a new one.