If you have ever planned on putting gear or adding extra seats to your UTV then you have probably wondered the amount of weight the bed could actually hold. This is important to know because overloading your UTV can cause problems. 
UTVs can hold anywhere from 50 pounds to 2000 pounds depending on the model and it is crucial to understand the max weight you can carry. Things like handling and control are affected by a UTV that is overweight. To avoid this, never overload your vehicle past the factory weight recommendations.
If you want to check out another detailed list of these UTVs and the trailers they can be towed by, check out this article and you can also check this one if you need to know your UTVs weight or towing capacity. There is a lot of information that you need to have in order to properly tow your UTV or haul anything and I will give you everything you need to know here on this site. If you are thinking about adding some rear seats to your UTV, check for fit and take a look at these jump seats over at Amazon.
If you want to skip down to your brand of UTV you can do so by clicking the link for yours in the table after you take a look at this video about some custom beds.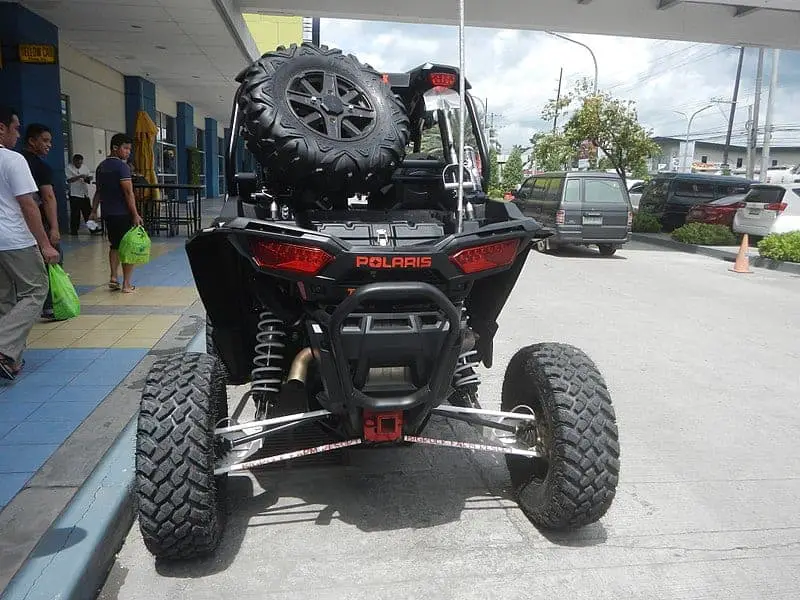 Can-Am
Model
UTV Dimensions
L x W x H (Inches)
Bed Capacity
(Pounds)
CAN AM
www.can-am.brp.com




CAN-AM MAVERICK X3 
131 x 64 x646
200 lbs
CAN-AM MAVERICK X3 TURBO
131 x 64 x646
200 lbs
CAN-AM MAVERICK X3 TURBO R
131 x 64 x646
200 lbs
CAN-AM MAVERICK X3 X RS
132 x 72 x 67
200 lbs
CAN-AM MAVERICK X3 X RC TURBO
131 x 64 x 66
200 lbs
CAN-AM MAVERICK X3 X RC TURBO R
131 x 64 x 66
200 lbs
CAN-AM MAVERICK X3 MAX TURBO
131 x 64 x 66
200 lbs
CAN-AM MAVERICK X3 MAX TURBO R
131 x 64 x 66
200 lbs
CAN-AM MAVERICK X3 MAX X DS TURBO R
131 x 64 x 66
200 lbs
CAN-AM MAVERICK X3 MAX X RS
165.5 x 72 x 66
200 lbs
CAN-AM MAVERICK X MR
118.8 x 68.3 x 78.6
150 lbs
CAN-AM MAVERICK MAX X MR

148 x 68.3 x 78.6
150 lbs
CAN-AM MAVERICK DPS
118.8 x 64 x 74.2
200 lbs
CAN-AM MAVERICK MAX DPS
148 x 64 x 78
200 lbs
CAN-AM MAVERICK XC
118.8 x 60 x 72.2
200 lbs
CAN-AM MAVERICK XC DPS
118.8 x 60 x 72.2
200 lbs
CAN-AM MAVERICK X XC
118.8 x 60 x 72.2
200 lbs
CAN-AM MAVERICK TRAIL 
118.8 x 64 x 74.2
300 lbs
CAN-AM MAVERICK TRAIL 800 DPS
118.8 x 64 x 74.2
300 lbs
CAN-AM MAVERICK TRAIL 1000

148 x 64 x 78
300 lbs
CAN-AM MAVERICK TRAIL 1000 DPS
148 x 64 x 78
300 lbs
CAN-AM COMMANDER LIMITED
120.2 x 62.5 x 72
600 lbs
CAN-AM COMMANDER MAX LIMITED
148 x 58.6 x 75.4
600 lbs
CAN-AM COMMANDER XT
148 x 58.6 x 75.4
600 lbs
CAN-AM COMMANDER MAX XT
148 x 58.6 x 75.4
600 lbs
CAN-AM COMMANDER DPS
148 x 58.6 x 75.4
600 lbs
CAN-AM COMMANDER MAX DPS
148 x 58.6 x 75.4
600 lbs
CAN-AM COMMANDER 1000 MOSSY OAK HUNTING EDITION
120.2 x 62.5 x 72
600 lbs
CAN-AM COMMANDER
118.3 x 58.6 x 72
600 lbs
CAN-AM DEFENDER MAX
152.5 x 62 x 75.3
1000 lbs
CAN-AM DEFENDER DPS
152.5 x 62 x 75.3
1000 lbs
CAN-AM DEFENDER XT
152.5 x 62 x 75.3
1000 lbs
CAN-AM DEFENDER MOSSY OAK HUNTING EDITION
125.6 x 64 x 78
2000 lbs
CAN-AM DEFENDER XT
120 x 62 x 78
1550 lbs
CAN-AM DEFENDER
120 x 62 x 78
1550 lbs
CFMOTO
Model
UTV Dimensions
L x W x H (Inches)
Bed Capacity
(Pounds)
CFMOTO
www.cfmotousa.com




CFMOTO ZFORCE 800
113 x 59  72
220.3 lbs
CFMOTO ZFORCE 1000EX EPS
113 x 59  72
220.3 lbs
CFMOTO ZFORCE 800 TRAIL EPS
113 x 59  72
330 lbs
CFMOTO ZFORCE 500 TRAIL EPS
113 x 50 x 70
330 lbs
CFMOTO UFORCE 800 EPS
117 x 56 x 74
600 lbs
CFMOTO UFORCE 500 EPS
117 x 58 x 73
600 lbs
Hisun
Model
UTV Dimensions
L x W x H (Inches)
Bed Capacity
(Pounds)
HISUN
www.hisunmotors.com




HISUN STRIKE 1000
113 x 65 x 70
350 lbs
HISUN STRIKE 1000 CREW
141 x 65 x 77
350 lbs
HISUN STRIKE 900
106 x 60 x 73
350 lbs
HISUN STRIKE 800
106 x 60 x 73
350 lbs
HISUN STRIKE 550
106 x 54 x 73
350 lbs
HISUN STRIKE 250
89 x 50 x 59
50 lbs
HISUN SECTOR 1000
123 x 67 x 78
1000 lbs
HISUN SECTOR 1000 CREW
155 x 65 x 78
1000 lbs
HISUN SECTOR 750 CREW
155 x 65 x 74
500 lbs
HISUN SECTOR 550
119 x 61 x 76
500 lbs
HISUN SECTOR 450
107 x 61 x 74
350 lbs
HISUN SECTOR 250
96 x 49 x 65
110 lbs
Honda
Model
UTV Dimensions
L x W x H (Inches)
Bed Capacity
(Pounds)
HONDA
www.powersports.honda.com




HONDA PIONEER 1000
116.8 x 62.9 x 76.4
1000 lbs
HONDA PIONEER 1000-5
116.8 x 63 x 76
1000 lbs
HONDA PIONEER 700
114.8 x 60 x 77.6
1000 lbs
HONDA PIONEER 700-4
114.8 x 60 X 77.6
1000 lbs
HONDA PIONEER 500
102.6 x 50 x 71.3
450 lbs
INTIMIDATOR
Model
UTV Dimensions
L x W x H (Inches)
Bed Capacity
(Pounds)
INTIMIDATOR
www.intimidatorutv.com




INTIMIDATOR GC1K
122 x 64 x 79.5
1000 lbs
INTIMIDATOR ENFORCER
117 x 72 x 83
1000 lbs
INTIMIDATOR CLASSIC
113 x 63 x 78
1200 lbs
INTIMIDATOR CREW
149 x 63 x 78
1200 lbs
John Deere
Model
UTV Dimensions
L x W x H (Inches)
Bed Capacity
(Pounds)
JOHN DEERE
www.deere.com




JOHN DEERE RSX860i
90 x 48 x 68
800 lbs
JOHN DEERE XUV560/590
115 x 48 x 74
400 lbs
JOHN DEERE XUV590
115 x 48 x 74
400 lbs
JOHN DEERE XUV855D S4
144 x 48 x 74
400 lbs
Kawasaki
Model
UTV Dimensions
L x W x H (Inches)
Bed Capacity
(Pounds)
KAWASAKI
www.kawasaki.com




KAWASAKI TERYX
118.1 x 61.6 x 75.8
600 lbs
KAWASAKI TERYX4
125.4 x 61.6 x 77.8
249 lbs
KAWASAKI MULE PRO-FXR
121.5 x 64 x 77.2
1000 lbs
KAWASAKI MULE PRO-FX
133.3 x 64 x 79.7
1000 lbs
KAWASAKI MULE PRO-FXT
133.3 x 64 x 79.5
1000 lbs
KAWASAKI MULE PRO-DX
133.3 x 64 x 77.4
1000 lbs
KYMCO
Model
UTV Dimensions
L x W x H (Inches)
Bed Capacity
(Pounds)
KYMCO
www.kymcousa.com




KYMCO UXV 700i
113 x 59 x 74.8
420 lbs
KYMCO UXV 500i
113 x 59 x 73.8
420 lbs
KYMCO UXV 450i
106.3 x 56.7 x 72.8
440 lbs
Massimo
Model
UTV Dimensions
L x W x H (Inches)
Bed Capacity
(Pounds)
Massimo
www.massimomotor.com




MASSIMO WARRIOR
122 x 65 x 82
500 lbs
MASSIMO T-BOSS
103.5 x 54 x 76
400 lbs
MASSIMO MSU
137 x 57 x 73.5
660 lbs
MASSIMO BUCK
103 x 56.5 x 74.5
400 lbs
ODES
Model
UTV Dimensions
L x W x H (Inches)
Bed Capacity
(Pounds)
ODES
www.odesutvs.com




ODES RAVAGER LT ZEUS
106 x 68 x 81
No Documentation From Manufacturer
ODES DOMINATOR X2
118 x 64 x 79
No Documentation From Manufacturer
ODES DOMINATOR X4
150 x 64 x 79
No Documentation From Manufacturer
ODES COMRADE EFI
115 x 55 x 72
No Documentation From Manufacturer
Pitster Pro
Model
UTV Dimensions
L x W x H (Inches)
Bed Capacity
(Pounds)
Pitster Pro
www.pitsterpro.com




PITSTER PRO LIL MOJAVE
87 x 47 x 58
No Documentation From Manufacturer
Polaris
Model
UTV Dimensions
L x W x H (Inches)
Bed Capacity
(Pounds)
POLARIS
www.polarisindustries.com




POLARIS RZR XP TURBO DYNAMIX
119 x 64 x 73.7
300 lbs
POLARIS RZR XP TURBO
119 x 64 x 73.7
300 lbs
POLARIS RZR XP 4 TURBO
146 x 64 x 73.7
300 lbs
POLARIS RZR XP 4 1000 HIGH LIFTER EDITION
149 x 64 x 75.2
300 lbs
POLARIS RZR XP 4 1000
149 x 64 x 73.7
300 lbs
POLARIS RZR XP 1000 TRAILS AND ROCKS EDITION
120 x 64 x 74.2
300 lbs
POLARIS RZR XP 1000 RIDE COMMAND EDITION
119 x 64 x 73.5
300 lbs
POLARIS RZR S 900 EPS
106 x 60 x 71.5
300 lbs
POLARIS RZR S 1000 EPS
106 x 60 x 71.5
300 lbs
POLARIS RZR S4 900 EPS
138.1 x 60 x 71.7
300 lbs
POLARIS RZR 900 EPS
105 x 50 x 69.5
300 lbs
POLARIS RZR 570
107.5 x 50 x 69
300 lbs
POLARIS RZR 170
85 x 48 x 55
No Documentation From Manufacturer
POLARIS ACE 900 XC
94 x 59 x 72
No Documentation From Manufacturer
POLARIS ACE 570 EPS
90 x 48 x 68
240 lbs
POLARIS ACE 500
90 x 48 x 67.5
240 lbs
POLARIS ACE 150
85 x 48 x 56
50 lbs
POLARIS GENERAL 4 1000
150.2 x 62.5 x 75
600 lbs
POLARIS GENERAL 1000 EPS
150.2 x 62.5 x 75
600 lbs
POLARIS RANGER XP 1000 EPS
120 x 62.5 x 77
1000 lbs
POLARIS RANGER CREW XP 1000 EPS
148.5 x 61 x 76
1000 lbs
POLARIS RANGER CREW XP 900
148.5 x 61 x 76
1000 lbs
POLARIS RANGER CREW DIESEL
148.5 x 61 x 76
1000 lbs
POLARIS RANGER CREW HIGH LIFTER EDITION
148.5 x 61 x 76
1000 lbs
POLARIS RANGER XP XP 900
116.5 x 60 x 76
1000 lbs
POLARIS RANGER CREW 570-6
146 x 60 x 74
800 lbs
POLARIS RANGER CREW 570-4
146 x 60 x 74
800 lbs
POLARIS RANGER 570 FULL SIZE
114 x 60 x 74
800 lbs
POLARIS RANGER 500
110 x 58 x 73
500 lbs
POLARIS RANGER 570
110 x 58 x 73
800 lbs
POLARIS RANGER EV LI-ION
110 x 58 x 73
800 lbs
SSR
Model
UTV Dimensions
L x W x H (Inches)
Bed Capacity
(Pounds)
SSR
www.ssrmotorsports.com




SSR SRU170RS
98 x 48 x 60
No Documentation From Manufacturer
Textron Off-Road
Model
UTV Dimensions
L x W x H (Inches)
Bed Capacity
(Pounds)
TEXTRON OFF-ROAD
www.textronoffroad.com




WILDCAT X
120 x 64 x 66
300 lbs
WILDCAT X LTD
120 x 64 x 66
300 lbs
WILDCAT SPORT XT 
111 x 60 x 64
300 lbs
WILDCAT SPORT XT LTD EPS
111 x 60 x 64
300 lbs
WILDCAT 4X LTD
149 x 64 x 71
300 lbs
WILDCAT TRAIL
111 x 50 x 64
300 lbs
WILDCAT TRAIL XT
111 x 50 x 64
300 lbs
WILDCAT TRAIL LTD
111 x 50 x 64
300 lbs
HAVOC X
126 x 64 x 77
600 lbs
STAMPEDE
126 x 58 x 75
600 lbs
STAMPEDE X
126 x 58 x 75
600 lbs
STAMPEDE 4
158 x 58 x 75
600 lbs
STAMPEDE 4X
158 x 58 x 75
600 lbs
PROWLER 500
106 x 56 x 77
500 lbs
Yamaha
Model
UTV Dimensions
L x W x H (Inches)
Bed Capacity
(Pounds)
YAMAHA
www.yamahamotor.com




YAMAHA YXZ1000R
122.8 x 64 x 72.2
300 lbs
YAMAHA YXZ1000R SS
122.8 x 64 x 72.2
300 lbs
YAMAHA YXZ1000R
122.8 x 64 x 72.2
300 lbs
YAMAHA YXZ1000R SS SPECIAL EDITION
122.8 x 64 x 72.2
300 lbs
YAMAHA WOLVERINE
116.9 x 60.6 x 74.2
600 lbs
YAMAHA WOLVERINE X4
122 x 59.8 x 77.2
600 lbs
YAMAHA VIKING
122.1 x 61.8 x 75.8
600 lbs
YAMAHA VIKING VI EPS
153.5 x 61.8 x 76.6
600 lbs