Many UTV drivers include suspension seats amongst their "must haves." Aftermarket brick and mortar shops and online stores are filled with suspension seat options for upgrading UTVs' fixed, rigid seats. How do suspension seats work?
In a suspension seat, you don't sit on a hard surface attached to a frame. Instead, you sit on a liner that is suspended — that's why it's called a "suspension" seat — from the steel frame itself. As you travel, the frame stays still and attached to the UTV frame. The liner, though, flexes with your body as it moves. 
For every UTV model, there's a UTV driver with different priorities, preferences and tolerances relating to features, comfort and safety. There are countless suspension seat features, customizations and options out there. Here's the rest of the information you need to know to determine if a suspension seat is right for you, then which ones may be good fits. 
How Do Suspension Seats Work?
It's tempting to compare a suspension seat to a hammock or the sling in a slingshot. The comparisons aren't precise, because neither of those things moves across hills, rocks and streams at high speeds. But, if you can picture yourself sitting in a hammock or positioned in the stone's position in a slingshot, you get an idea. In both cases, your body is not in contact with the frame but is suspended between the structural elements — the trees or the arms of the slingshot, so to speak. The same is true about UTV suspension seats.
Every suspension seat manufacturer has different features and finishes, but the structure of suspension seats is similar across models. Having a better understanding of the anatomy of a suspension seat may help with understanding how they work, and which may be suitable for you if you're tempted to give on a try. Like we said, every manufacturer has different details of similar processes, and different language to describe it. The following anatomy is drawn from a leading suspension seat manufacturer, PRP Seats. A suspension seat is built of the following four elements.
Suspension Seat Parts
Steel Frame
The frame of suspension seat is generally built of powder coated steel, and mounted directly onto the frame of your UTV. You'll ultimately be unable to see the frame because the suspension liner will hang between it, attached by cord, then covered with a cover. 
Suspension Liner
If the frame plays the role of the trees in our hammock scenario, the suspension liner is the hammock itself — the mesh on which you recline and nap in the sunshine. On your UTV, it's the tear-resistant mesh that is strung between the frame components that cradles your body and flexes and shifts with changing terrain. 
Cord
That suspension liner is wrapped around the frame's structure then attached tightly using cord. In PRP Seats' manufacturing, that cord is 700 lb parachute cord. 
Padding
Suspension seats consist of other elements to make it more comfortable than sitting on just a steel frame and mesh: padding. PRP Seats uses multi-density foam to provide supplemental padding in strategic areas, such as behind your head. 
Cover
A cover is then wrapped around the whole frame/liner/cord/foam assembly. The cover may be made of marine grade vinyl to be water resistant, and may include other features such as fade-resistance. 
What Are The Main Differences Between Suspension Seats And Fixed Seats?
A suspension seat provides support via its steel frame, but support with flex given the mesh that is actually supporting your weight. A suspended seat frame remains in a fixed position relative to the UTV's frame, but your body weight shifts as you travel. In a rigid, fixed, molded seat, the seat frame and your body remain in a fixed position relative to the UTV's frame as the UTV travels the terrain. 
Off-road users dealing with frequently changing terrain and bumps often complain that OEM rigid seats lead to a lot of discomfort based in part on the fact that their body is shifting within and bouncing on the rigid seat. Many of those drivers describe experiencing less shifting, improved posture and decreased back pain while using a suspension seat. 
Are Suspension Seats Safe?
For many UTV drivers, the preference for suspension seats is a function of comfort. Swapping out stock equipment for any aftermarket options must take safety into account, as well. 
Suspension seats are well-equipped to absorb the energy of "slam-down" impacts like those UTV drivers experience when coming down to earth from going airborne. Unlike composite seats intended to protect road racers from lateral impacts, suspension seats are more focused on protecting from vertical movements more specific to UTV operation. Suspension seats — admittedly not the ones available at your local ATV or UTV shop — regularly used in military and stunt performance vehicles. 
Military suspension seat testing has shown the suspension seats were able to absorb 300 g's (gravitational force equivalent) of a 342 g impact. In that test, it meant the crash test dummy experienced just 42 g of impact in NATO's Stanag Level 2a test involving slam down testing with C4 explosive activated under the military vehicle's wheels. 
Beyond seats themselves, safety considerations need to include other essential accessories such as harness systems and helmets. When choosing a suspension seat configuration that may suit you and your UTV, ensure it's compatible with your existing or intended belt/harness equipment. Properly installed, maintained and accessorized with appropriate harness/belt equipment, suspension seats are no less safe than OEM rigid UTV seats.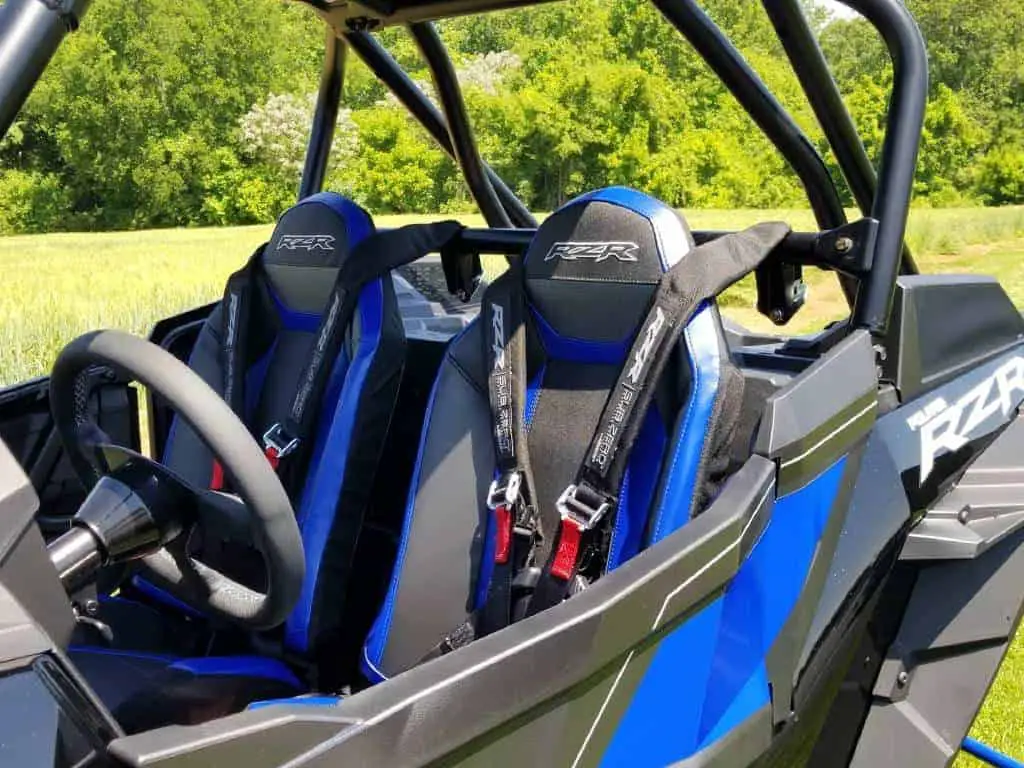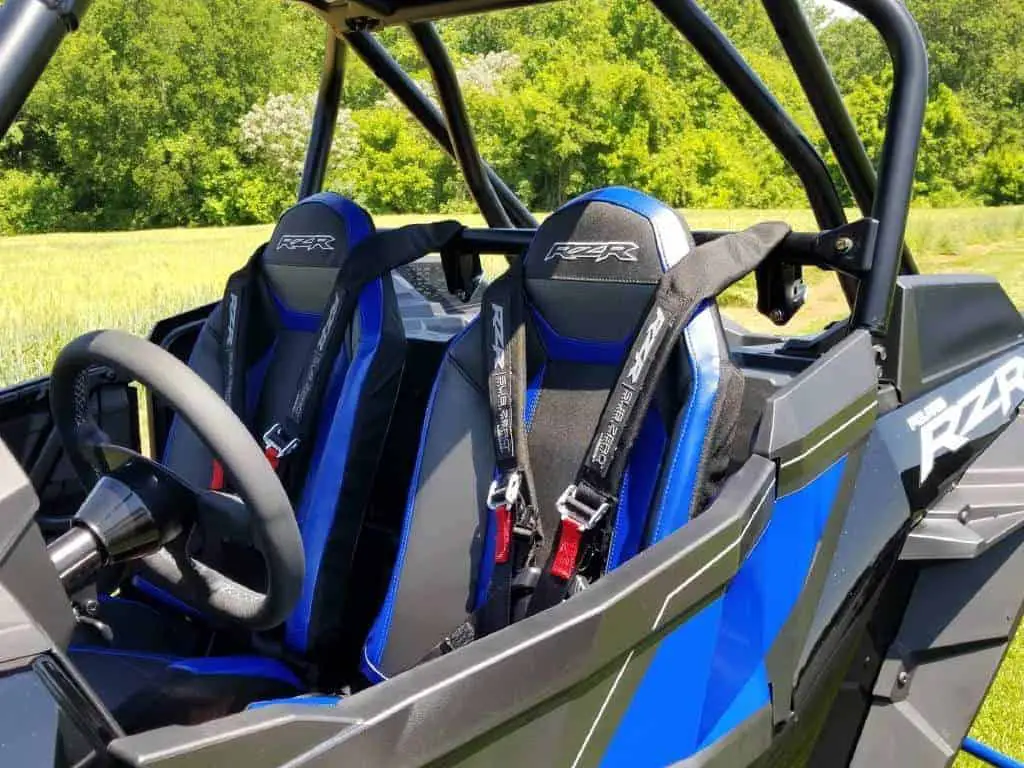 Can Suspension Seats Be Customized?
Different models of suspension seats offer variations on a wide variety of factors, including: 
Amount of bolstering or padding on sides, edges and at head-rest
Quality of materials, including foam, non-slip covers, fade-resistant and water resistant-covers, breathable mesh, etc. 
Number of inches of side containment
Whether seat cushions can be removed for cleaning
Adaptability to harness systems 
Quick-release systems
Seating angle.
Beyond those functional elements, suspension seats can be customized in nearly countless combinations. PRP Seats, for example, offers customization of the following elements depending on what UTV you're trying to outfit. Each customization element affects the price, of course. 
Logo color
Model logo
Stitch color
Piping color
Back color
Center color
Arm color
Band color
Available front goggle pocket
Available rear pocket
Available water pack
Available heating
Available lumbar supports 
One thing to watch for when selecting aftermarket suspension seats is whether the package you're looking at includes all necessary brackets and adaptors for your UTV model. Be sure to do all the proper research to make sure you are getting the product that will work on your UTV. Double and triple check to make sure so you don't end up with seats that you need to wait on the proper parts to install, or in the worse case,  can't use at all.
Where Can You Purchase Aftermarket Suspension Seats?
There are a large number of aftermarket suspension seat manufacturers offering seats for a wide variety of UTV models with different features and at various price points. The following manufacturers sell suspension seats with MSRPs ranging from $299 to $800. (Many of these same manufacturers also offer harnesses and aftermarket rigid seats for UTVs.)
Manufacturers offer suspension seats for a wide variety of UTV models, including single front seats, side-by-side front seats, rear single seats, and even rear bench seats. The possibilities are really unlimited and you can make your seats match your side by side, or even your outfit.
If you want to get a set of quality suspension seats then I suggest you check out the manufacturers listed above. Make sure you price check and ensure they can outfit your UTV with the right set of seats.
Check Out My Favorite Gear:
Item
Motif V3 Off-Road Motorcycle Helmet (Men's)
Comp X Motocross Boots (Men's)
Other Great Articles