Cast your mind back to the 1970s, when all the motorcycle manufacturers were switching from two-stroke to four-stroke engines, except Yamaha who kept developing the engine that became the RZ350. Jump forward to 1987, when three-wheeled ATVs were on the wane, and quads were all the rage. Yamaha shocked the industry by putting that RZ350 in an off-road quad — the Yamaha Banshee — that went one to be beloved by its cult following. Cult following, history and pedigree aside, are Yamaha Banshees good quads?
The 34-hp, 386 lb, two-stroke Yamaha Banshee is easy to maintain, ideal for dirt and dunes, readily modified, described as virtually indestructible, and often called by off-road enthusiasts as the greatest ATV of all time. Does that make it a good quad? Yes. The endlessly fun Banshee is one good quad. 
True as that is, it's an incomplete answer considering the cult following that worships the Yamaha Banshee despite that new ones haven't been built in years. Here's the rest of what you need to know about the Banshee, including its history, production, specs, top speed, criticisms and value.  
Everything You Need To Know About The Yamaha Banshee
What Is The Yamaha Banshee's History?
In the early 1970s, Kawasaki, Suzuki and Yamaha Street bikes mostly had two-stroke engines. As the decade progressed, manufacturers Kawasaki and Sucuki switched to four-stroke, 750 to 1,000 cc engines for street bikes. But not Yamaha. Yamaha kept working on their two-stroke RD400 engine that ultimately became its liquid-cooled RZ350. Ultimately, Yamaha's RZ350 was the last available two-cylinder street bike. With that status, it developed a cult-like and loyal following. 
Turning to ATVs, by the mid-1980s, three-wheeled trikes were becoming passe in favour of quads in the marketplace. When Yamaha revealed its quad ATV lineup, the market anticipated one-cylinder 250cc, two-stroke engines like those in Suzuki and Honda's quads. Yahama went bigger than that and planted its RZ350 engine into a quad ATV. Thus the Banshee — the only twin-cylinder, two-stroke quad on the market — was born. 
When And Where Was The Yamaha Banshee Produced?
Yamaha produced the Banshee 350 from its Japan plant from 1987 through 2012. In the United States, they were sold from 1987 to 2006. In Canada, new Banshees were sold until 2008. Australians could purchase new Yamaha Banshees from 1998 to 2012. Here are engine and chassis specifications that make the Banshee such a fun ATV. 
What Are The Banshee's Engine Specifications?
| | |
| --- | --- |
| Bore x Stroke: | 64 mm x 54 mm |
| Compression Ratio: | 6.5:1 |
| Drive Train: | RWD; Sealed O-Ring Chain |
| Fuel Delivery: | Dual Mikuni 26 mm |
| Ignition: | CDI |
| Starting System: | Kick |
| Transmission: | 6-speed Manual Clutch |
| Type: | 350 cc, 2-Stroke, Liquid Cooled, Reed Valve 2-Cylinder |
There are two things to notice about the Banshee's specs, that stand out but do not deter its fans: the absence of an electric starter; and the fact that it has no reverse gear. I have personally ridden on a trail with a Yamaha Banshee and the kick starting can be a pain at ties, as well as the no reverse, but it is still an amazing quad to run anywhere with.
What Are The Banshee's Transmission Specs?
| | |
| --- | --- |
| Primary ratio:  | 66/23, 2.869 |
| 1st gear ratio:  | 32/13, 2.461 |
| 2nd gear ratio:  | 29/16, 1.812 |
| 3rd gear ratio:  | 27/18, 1.500 |
| 4th gear ratio:  | 25/20, 1.250 |
| 5th gear ratio:  | 23/22, 1.045 |
| 6th gear ratio:  | 21/24, 0.875 |
| final ratio:  | 41/14, 2.929 |
That combination of engine and transmission specs combine to deliver what makes the Banshee so attractive to so many owners – its sheer power. That power comes from what has been described as an incredible powerband that requires finding its sweet spot. Not every beginner or new driver will be able to hit that sweet spot immediately, something that makes the Banshee a bit of a risk at the outset. Compared to a four-stroke engine, the Banshee's power can be somewhat unpredictable. 'Popping a wheelie' is easy to do until you get used to the engine's power and when and how it's delivered to those tires.
What Are The Yamaha Banshee's Chassis Specifications?
| | |
| --- | --- |
| Front Brakes: | Dual Hydraulic Disc |
| Rear Brakes: | Hydraulic Disc |
| Front Suspension: | Independent Double Wishbone, 9.1″ w/ 5-way Preload Adjustment |
| Rear Suspension:  | Swingarm with Linkage, 8.7″ w/ Rebound, Compression and Threaded Preload Adjustment |
| Front Tires: | AT21 x 7-10 |
| Rear Tires: | AT20 x 10-9 |
What Are The Dimensions Of The Yamaha Banshee?
| | |
| --- | --- |
| Dry Weight:  | 386 Lbs. |
| Fuel Capacity:  | 3.2 Gallons |
| Ground Clearance:  | 5.3″ |
| L x W x H:  | 73.0″ x 43.3″ x 42.5″ |
| Seat Height:  | 31.5″ |
| Wet Weight:  | 405 Lbs. |
| Wheelbase:  | 50.4″ |
What Is The Top Speed Of The Yamaha Banshee?
A stock Yamaha Banshee 350 will reach 75 MPH. Performance parts are available for the Banshee, and there are many modified versions of the Banshee out there using original and aftermarket parts. You'll find videos online of some owners reaching 85 MPH. Any ATV's speed depends on a wide variety of factors, including weather, fuel, condition, altitude, and wind.
Some modified Banshees have been stretched into something akin to a drag racer by pulling the wheels far out in front. Some owners, still not satisfied by the Banshee's enviable power, have made their Banshee even more powerful with a big bore cylinder. 
Are Yamaha Banshees Good For Trail Riding?
The Banshee is well equipped for dunes and dirt, but not at its best on trails. The rocks, logs and bumps you'll find on trails require a good and well-tuned suspension. The Banshee has been criticized for not having a top-rate suspension.
With that being said, if you don't mind the lack of a good suspension and the bumps along the trail, I would suggest taking your Banshee on the trails anyway because they are just as fun there as the dunes. 
Is A Banshee Worth The Purchase Price?
There are some criticisms of the Banshee to be sure. Here are a six that come up most often:
The Banshee's external looks are often described as "primitive"
You'll have to pre-mix your gas, because the Banshee does not come with oil injectors. Pre-mixing isn't hard, but it's a step you'll need to learn and take
Yamaha's stock air filter for the Banshee tends to inhale dirt, which can contribute to internal wear. Consider, as many owners have, switching to aftermarket air filters or even pre-filters to better protect the Banshee's engine
The Banshee has been criticized for not having a top-rate suspension
The 350's two-stroke engine comes at a fuel efficiency price. The 350 delivers more power, but consumes more fuel in doing so. 
As mentioned earlier, the Banshee does not come with a reverse gear. 
Despite those criticisms, though, many ATV enthusiasts consider the Banshee the best ATV ever produced and certainly Yamaha's best ATV. It has become a staple collector ATV, and a machine easily modified by owners given that Yamaha made very few changes from one model year to another. All these years after the last Banshee was made and sold, they remain among the most popular models, and worth the price. There remains a strong market for re-selling the Banshee, since it has one of the most loyal fanbases of any ATV machine available.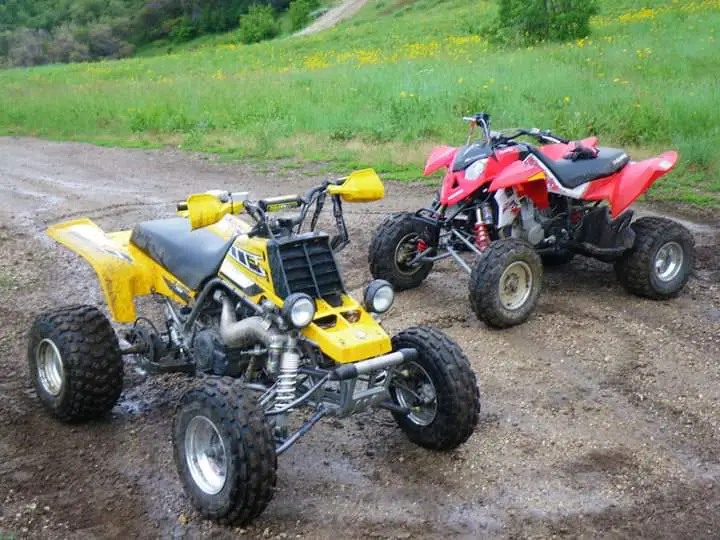 The average price for a used (no new ones have been manufactured since 2012) Yamaha Banshee 350 is in the range of $2,000 to $3,200. As always, the price for any used ATV depends on a lot of individual factors, including the condition and maintenance history of the vehicle. In this case, the Banshee is worth it. 
Check Out My Favorite Gear:
Item
Motif V3 Off-Road Motorcycle Helmet (Men's)
Comp X Motocross Boots (Men's)
Other Great Articles