When the winter months arrive and it starts getting too cold to ride your ATV, you may think you are not going to get to ride again until next spring starts. Well if you are like me and really hate shoveling snow, then maybe your ATV parked in the garage or building out back can save you some back pain.
ATVs are actually really great at plowing snow IF you know their limitations and plan accordingly. ATVs can plow sidewalks and driveways up to a foot, sometimes deeper depending on the ATV size, plow setup, and tires. 
If you already own and ATV and want to attach a plow to it, this a great way to use your existing ATV to supplement your snow removal in the harsh winter months. I am going to make sure you have all the information you need before you decide whether your ATV is good for plowing snow.
Decide if you Need an ATV or Snow Blower
ATVs are limited as to how much snow they can actually plow but for smaller jobs like driveways and sidewalks they are a perfect fit. As I already said, if you have an ATV already then you are already on your way to being back pain free from shoveling snow. Snow blowers like this one from Amazon are competitively priced against plows.
If you want to plow heavily trafficked areas, chances are the snow will be packed down and harder to plow. Fresh snow is often the best to plow because it hasn't had time to freeze over or turn into ice yet. If you need to plow 3 feet of snow in the middle of a field somewhere, a tractor with a snow blower is probably a better choice.
I used to live in Utah and it snowed quite a bit there. As a Polaris sport ATV owner I would have never hooked a plow up and tried plowing the driveway and sidewalks. One of my friends owned a Yamaha Grizzly and used it all the time to plow his driveway and sidewalks. Man was I jealous! This is why you need to make sure you have the right ATV for the job.
Have the Right ATV for the Job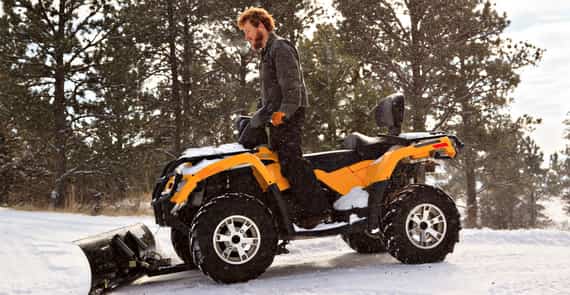 Make sure to check the manufacturer's specifications in your owner's manual. You want to see that your ATV has the power it needs so you can properly attach AND push a snow plow without causing any damage. Overloading an ATV can cause serious damage to your equipment or cause serious injuries to you!
If you are looking for a multi purpose ATV to use all year round it is crucial to find one with the right power and weight. Finding an ATV with the right weight is a more important factor than power. Having a 800cc or 1000cc engine won't mean anything when plowing snow if you have no weight to support the plow or the snow being pushed.
Fuel Injection is another factor to take into consideration. If you are going to plow a foot or two of snow you might want to consider this option. You wouldn't want a chunk of snow to melt and get inside your carburetor causing it not to start. Fuel injection is also normally push button, one time start with no need to mess around with the choke and warming up the ATV. These ATVs should start right up and be less stressful when it is cold outside. 
Pick the Right Plow For Your ATV & Application
Make sure you do plenty of research as to what size and weight plow your atv can handle. There are many different brands and sizes of plows available for your ATV.
Plow Blade Sizes
Plow blades for ATVs are typically 48 inch, 54 inch, and 60 inches wide with varying plow heights. Again refer to your owner's manual to ensure your ATV can handle the size plow you choose. Most of the time a 48 inch plow is plenty and will do the job just fine on an ATV.
Tapered Plow Blades
Tapered plow blades are designed with an aggressively curved profile to move snow and dirt up and away from the surface you are plowing. This allows you to push the snow away from you. This will keep it from building up and bogging down the front of the plow and hindering the ATV from plowing properly. Tapered plow blades are more suited for ATVs for just that reason.
Straight Plow Blades
Straight plow blades are just that: straight. They allow you to push the snow in front of the ATV, completely clearing the path. The downside to this is the weight of all that snow may keep your ATV from being effective enough to move the snow all at once kind of like this Extreme Max plow from Amazon.
Tip: If you angle a straight plow blade to the left or right it will reduce the load and act somewhat as a tapered plow blade.
Most snow plows are made with heavy duty 12-14 gauge steel for better durability. When you are searching for the best snow plows for your ATV, be sure not to cheap out on one of the flimsy ones. They are a cheaper price for a reason.
Choose the Right Tires
Again, there are SO many tire brands, sizes, and treads to choose from that this may seem like a daunting task. You can search and find differing opinions on what tire is best for plowing snow but the bottom line is moderately aggressive mud tread tires are generally better in the snow. 
Many of these can be used with a wide range of newer ATV models and generally consist of high-performance rubber. They will grip mud as well as snow very well so they are best to be used in extreme conditions.
Maintain Your Equipment
Before winter even rolls around you need to be certain your ATV has been routinely maintenanced and will not require service in the middle of the freezing winter. While this will save your fingers from having to work on your ATV in the cold, it will also help prevent you from having to stop plowing because your ATV is not running anymore.
Change Your Oil
Oil is the lifeblood of your ATV. Keeping a properly scheduled oil change plan will ensure your ATV will last a very long time. If you want to check out a guide on changing the oil in your ATV I wrote an article on how to change the oil on a 4 stroke ATV that you should check out HERE.
Check Tire Pressure and Tread Wear
Improper tire pressure and worn tire tread can not only cause you to lose gas mileage but will also cause you to lose grip more easily. The purpose of tires on your ATV is to grip the ground underneath the snow in order to gain traction. With worn tires and low pressure, you won't be gripping much.
Check Coolant Levels
It is cold outside but that doesn't mean your ATV can't overheat still. If you are plowing and constantly have the engine running with little or no coolant, you will overheat your engine.
Use Premium Grade Fuel
Most ATVs work best with high octane, premium grade fuels. It may cost a little bit more but you will be able to keep your engine running  at peak performance.
So, can you use an ATV for plowing snow? Absolutely but just remember everything here when choosing your ATV and the plow you will use for it. This will allow you to enjoy many years of cleanly plowed driveways and sidewalks and put that ATV to great use in the winter months.